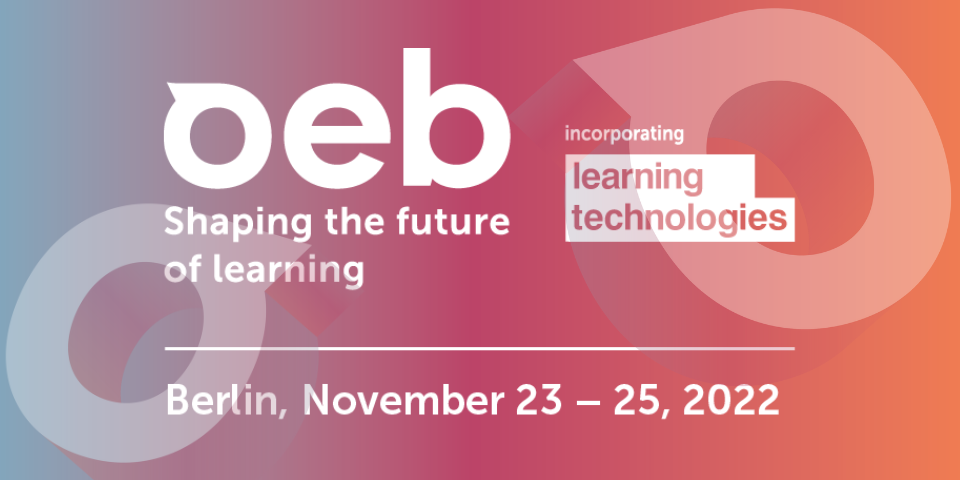 On November 23-25, the cross-sector conference for digital learning and training returns to InterContinental Berlin. Over 2,500 people are expected to attend OEB Global 2022, with an eclectic assembly of speakers, debates and much more awaiting them.


This year marks the 28th annual edition of OEB Global, with a conference and exhibition packed with invaluable resources for those in the digital learning industry. OEB covers three vital sectors in this industry; corporate learning (L&D), education, spanning from school to university, and the civil sector.



There is something for everyone at this event, with a clear theme and goal this year: Re-imagining Our Vision for Learning. If you haven't secured your place yet, don't worry – there's still time! Read on for our top reasons to attend OEB Global 2022 and get your ticket today.




Illustrious keynote speakers

If you've joined us in Berlin before, you'll know the quality of our speakers well. However, if you're new to our event or just want to hear what 2022 brings, you're in for a treat. Our assembly of keynote speakers this year represents both the diversity among the individuals and the backgrounds in digital learning and training they possess. Pär Lager is one of the leading experts in the Nordics on leadership, competitive analysis and innovative learning, and the author of Upskill och Reskill. Pär will be delivering the opening plenary on Thursday, along with fellow keynotes Njeri Mwagiru and David Mitten, which will kickstart the conference into reimagining a collective vision for the education and training of the future.



Njeri is an experienced keynote and current Senior Futurist at Stellenbosch University Business School. She will bring her passion for individuals and organisations in Africa, with her impressive background in strengthening individuals' and organisations' navigation during uncertainty. Her research interests include leadership, organisational performance, knowledge, gender and diversity, inclusivity and transformation. David is the founder of New World Same Humans, a newsletter with 22,000 subscribers, that focuses on trends, technology and society. He regularly gives talks at leading conferences and events across the globe, has written and presented documentaries for BBC Radio 4, and is the author of Trend-Driven Innovation. The opening plenary will be moderated by Donald H Taylor, Chair of Learning Technologies Conference, who has been a key player in L&D since the 1980s. This plenary will explore how we can make the most of the new flexibility, which resulted from much-needed quicker advancements during the pandemic.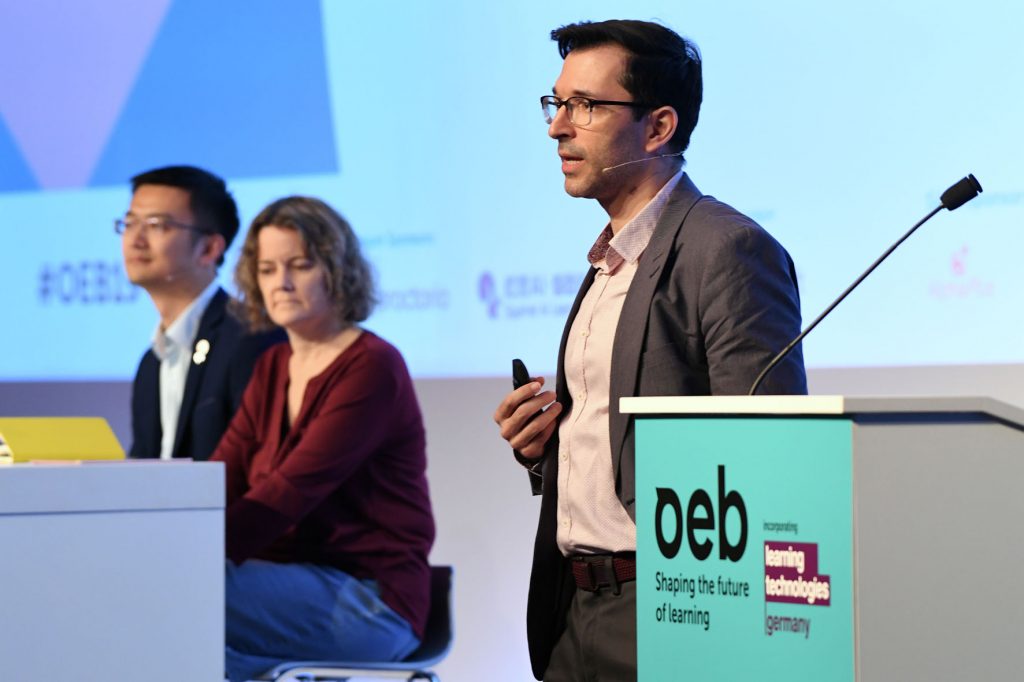 The final morning of OEB 2022 spoils you with choice of keynotes. Two keynote sessions take place in the morning: 'The University of the Roller Coaster' and 'Moving Beyond the Daily Grind'. The first is led by Clare Walsh, Bart Rienties and Rikke Toft Nørgård – all leading experts in the EdTech industry. Clare is head of education at the Global Institute of Analytics, a prolific author with over 20 publications in the educational field. She re-trained at the Web Science Institute at Southampton University, where they prepare researchers for the socio-technical 21st century, able to combine domain expertise with advanced technical skills.



Bart has over 20 years of experience in designing, researching and evaluating blended and online learning programmes in higher education and professional learning. He is a professor at the Institute of Educational Technology, Open University UK. has successfully led a range of institutional/national/European projects, and has received a range of awards for his educational innovation projects. Rikke is an associate professor at Aarhus University's School of Education in Denmark and is known for her involvement with countless pedagogical and humanitarian projects and an active member of multiple higher education societies. This plenary shall be moderated by Gila Kurtz, Dean at the Holon Institute of Technology in Israel, and will tackle this difficult question, among others: how can Higher Education function in a world struggling to save itself from climate change, pandemics and war?



The other Friday keynote session is moderated by Donald H Taylor and will be focused on corporate learning and training. This session will be delivered by Lukas Lewandowski, Meredith Wellard and Berna Öztinaz, exploring how L&D can complete routine training to a high standard while being a key supporter of business strategy. Lukas is the first Country Manager for DACH, bringing over 20 years of education and technology and a wealth of experience in developing teams to expand international business, turning complex solutions into actionable strategies and driving the talent pipeline across business units. Berna is the Chief Human Resources Officer at GENEL ENERGY PLC and International Affairs and Congress Representative for Peryön — the biggest non-profit Human Resources organization in Turkey. Meredith is the Vice President Group Learning Talent and HR Platforms for Deutsche Post DHL. An established HR professional, she has a Master's Degree in Organisational Development and Learning, with a diverse career spanning customer service, HR and talent management.




Interactive workshops

OEB Global is a 3-day event, which means there's plenty happening before the opening plenary on Thursday. The assembly of pre-conference workshops is extensive and inspiring this year, with everything from hands-on courses creating videos for online courses to an in-depth session on ethics. Gilly Salmon and Rod Angood from Learning Alchemists Ltd will deliver a workshop on 'Creating your Future Through Images: Education 4.0 in your Paint and Fibre Pen Box!' This session takes place on Wednesday afternoon, and will highlight visual imaging techniques, icons, and graphical tools that everyone can master, regardless of artistic experience. Redesign a school with Frank van den Ende's workshop on digital transformation as something that needs to start from scratch rather than be an add-on to education! Frank from Gilde Opleidingen will run a session in the form of a step-by-step approach on how to redesign your school and include technology at the core of your educational design, where you create your own draft and learn from others.



The Speexx Exchange will take place first thing Wednesday morning, moderated by Laura Overton, CEO and co-founder of Emerging Stronger, and is the perfect event for curious HR and L&D minds who want to make a difference. This workshop will bring professionals from over 20 countries together for a day of in-depth best practices to understand how you can successfully transform your learning and HR organisation to deliver real business value, supported by the latest results from Europe's leading independent benchmark research. Another unmissable workshop is 'Designing Humanistic Learning Experiences for Education, Training and Product Development', delivered by Melissa Kane, Brown University, and Carol Damm, Boston College. This interactive workshop will define the role of the learner in three major sectors and engage participants in co-designing a new, integrated design framework tailored to each sector.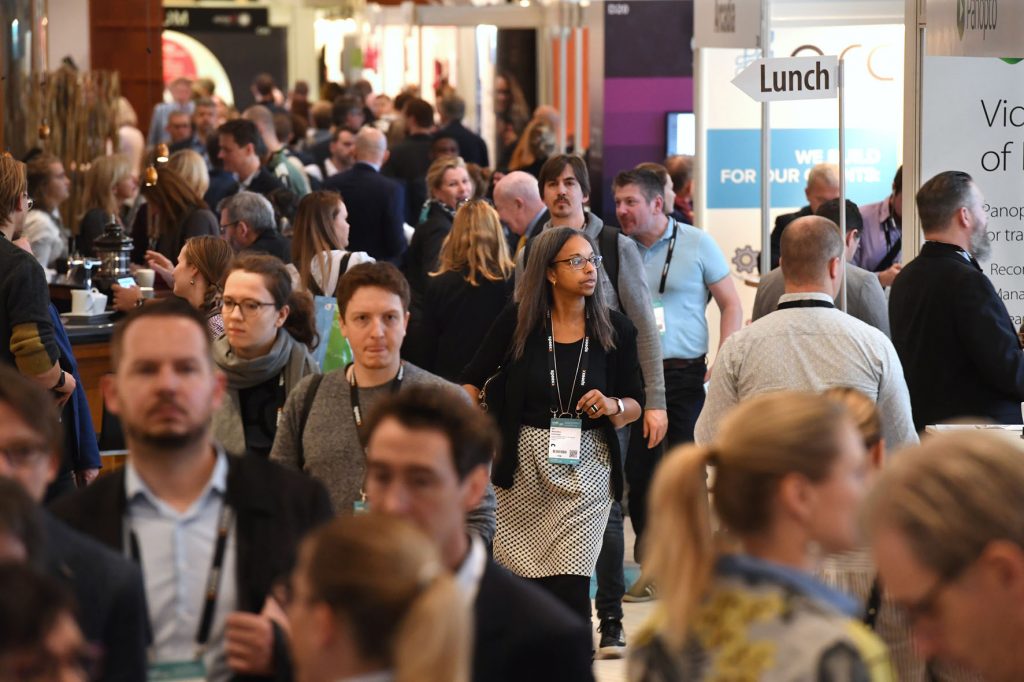 Inspiring spotlight talks

Have you ever wondered how robots can assist teachers in structuring the learning experience? Ilona Buchem, Professor of Media and Communication at Berlin University, has the exact session for you. On Thursday, November 24, Ilona will explore how to take the application of humanoid robots to support learning in education and L&D to the next level with practical applications. She will look at how different humanoid robots are used in different educational contexts, including examples from her own research at the Communication Lab at the Berlin University of Applied Sciences, as well as address the potential and limitations of using humanoid robots in education.


Donald Clark, eLearning expert and Strategist, will host a session entering the highly-talked-about Metaverse. From simple VR to the Metaverse and experiments in VRChat, he will draw on real research: showing what has been done, what seems to work and, just as importantly what doesn't. Donald will also have an untethered Oculus to hand if you needed any more convincing for this innovative spotlight talk. Another key spotlight session will take place on Friday, by the two co-CEOs of HolonIQ, Maria Spies and Patrick Brothers. They will be exploring 'The Global EdTech Landscape & Future Models for Digital Learning', providing an interactive talk on global EdTech trends, identifying new models, and what the 'new normal' is likely to be. Don't miss this session, which will reveal how immersive technology is being used in higher education and provide practical examples of how XR, blockchain and AI are impacting education and learning today.



Networking opportunities

With over 2,500 guests from every corner of the globe at OEB Global, there are endless opportunities to network. Visitors are from all the major sectors of digital learning and training, namely education (which ranges from schools to universities), corporate learning (L&D), government and civil society. There's plenty of time across the event which you can dedicate to networking, all kindly fuelled by coffee, tea and lunch. The exhibition area will provide a vibrant meeting spot to catch up with colleagues, meet new faces, and have group meetings. The exhibition will be lively with stands from our prestigious exhibitor list, or you can take your conversation to a quieter area over a cup of coffee!



Don't forget about our learning cafés – the ideal spot to learn new things as well as meet new people. The learning cafés provide seminars exploring anything from learning metrics that improve ROI to measuring the impact of your L&D programmes. These learning cafés will give you plenty to talk about when you network, as people will be eager to take the conversation further after the session finishes!



We hope to see you at InterContinental Berlin in November 2022. Check out the official OEB Global 2022 Programme for the full agenda of the event.


Written for OEB Global 2022 by Chloë Sibley.