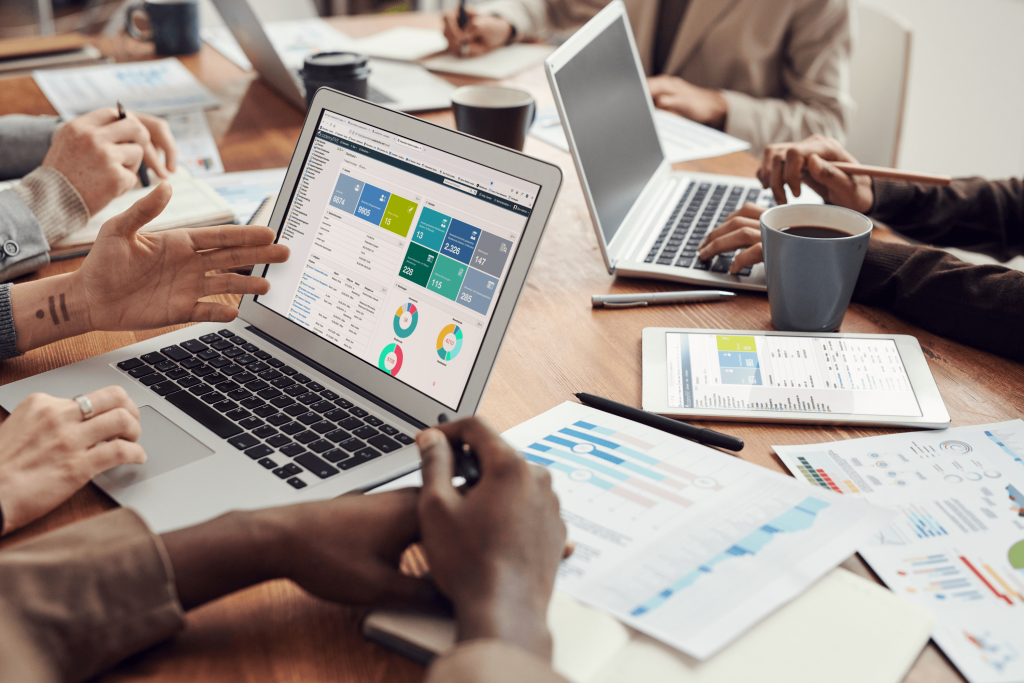 Universities assume responsibility for the next generation of academics – and thus also for the people who will hold the future of our society in their hands. However, it is not only social responsibility, but also ecological responsibility – particularly influenced by digitalisation – that shapes everyday life and education at universities. One thing is certain: digitalisation does not stop at higher education institutions. Fortunately, we think, as the digital transformation brings with it numerous opportunities and there are exciting possibilities that can fundamentally change and improve everyday university life.

At Simovative, we deal with the question of how university-internal processes can be made more sustainable through digitalisation. Initial approaches indicate the potential that digital transformation offers for more sustainable processes in university administration. These include, for example, a paperless student file, the digital submission and archiving of written examination results, and the demand-oriented dispatch of information material. We are convinced that there are other perspectives, opportunities as well as controversial topics.



Practical example from everyday university life

Our campus management system academyFIVE is a good example of how higher education institutions can become more sustainable with the help of digitalisation. The use of digital technologies such as our software and its numerous functions can actually promote sustainability at universities. This is illustrated by the example of the digital signature and the electronic dispatch of letters. The use of these technologies can reduce CO2 emissions by around 70%. Sustainably designed IT makes a major contribution to resource efficiency through measurable savings in paper, time and space. Digitalisation also enables easy networking across universities and borders. In this way, knowledge and material can be exchanged and synergies can be used sustainably – in a resource-saving and efficient manner. Together with our customer, the University of Applied Sciences Vorarlberg (Austria), we evaluated which savings and efficiency increases the university has been able to determine since using the digital signature within its campus management system. The following results could be proven:


The effects of the use of digital signatures can be seen in a single process that has to be completed right at the beginning of a course of study: the training contract. Based on 650 new enrolments per year and a 16-page training contract that has to be printed out in duplicate, this results in annual paper costs of 1,250 euros just for the contract, not including consumables for the printer. In addition, there are time savings for printing, signing and manual filing. Overall, however, the digital signature is used in many more processes at the university, so that extrapolation alone can reduce paper costs in the five-digit range.


An example of the time saved is the confirmation of continuation (certificate of enrolment), which shows that with 1,600 enrolled students and per application, a manual workload of five to ten minutes can be assumed (plus the preparation time). This means that if only half of the students require a certificate of enrolment, this results in an annual saved workload of around 70 hours – and that is for the issuance of a single document.


Detached from the individual aspect of the digital signature, we would also like to mention and emphasize a fundamental advantage of a digitized university administration. The University of Applied Sciences Vorarlberg is currently in the process of space planning for a new building. Due to the elimination of analogue student files, the use of a completely digital administration leads to a significantly lower space requirement than before the use of an integrated campus management system. Whereas ten years ago, 15 shelf meters per workstation were calculated, the new building will now only require about half of that, i.e. about 8 shelf meters.


By using digital signatures, all of the above processes can be carried out more efficiently and cost-effectively while complying with all legal requirements – and at the same time, a valuable contribution is made to sustainability. We strive every day to make other internal university processes more sustainable through digitalisation. What about you? How digital and sustainable is your approach?




Written for OEB Global 2022 by the team at Simovative.