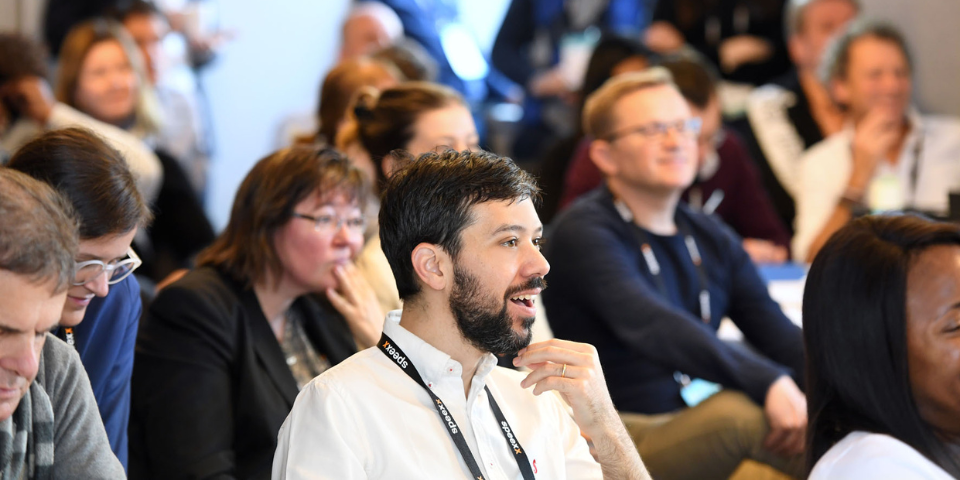 In less than three months on November 23rd-25th, the cross-sector conference for digital learning and training returns to Berlin. OEB Global will deliver a conference dedicated to digital learning and EdTech, bringing more than 2,000 professionals together at the InterContinental Hotel Berlin.


With just over two months to go, we bring you the featured highlights of the OEB Conference so far. From interactive workshops to award-winning keynote speakers, there is a lot to fill your calendar on those three days in November. To start planning your visit, continue reading for our official insights into the OEB highlights.


Renowned speakers

This year, you're in for a treat. The OEB Conference is hosting an assembly of illustrious speakers this year, with award-winning experts that will bring you the latest and greatest in digital learning. Maria Spies is co-CEO of HolonIQ with Patrick Brothers, who is among the many early highlights of OEB 2022. Maria has extensive experience in driving digital learning futures in pedagogical organisations, now co-running the world's leading intelligence platform. Maria and Patrick's session, 'The Global EdTech Landscape & Future Models for Digital Learning', will feature practical examples as well as insight into global EdTech trends. HolonIQ's CEOs will delve deep into how the use of AI, XR and blockchain is impacting education today and will explore how new credentials will impact post-secondary education. This is an unmissable session for anyone interested in EdTech at this year's OEB Conference, featuring interactive breakout opportunities.



John Helmer is bringing his Great Minds on Learning podcast to the forefront of the assembly. John is a communications specialist, proficient in emerging technologies for digital learning, education and HR. John's session will boast a unique meta element; focusing on 'How to Create a Learning Podcast: Featuring a Live Recording of the 'Great Minds on Learning' Podcast'. As John goes behind the scenes of podcasts, his session will inspire educators and trainers alike to launch their own. John will provide essential tips for attendants to take away and implement successfully into their learning network, which apply to all sectors of digital learning.



If you really want to expand your mind, Sazilah Salam will deliver a session with a more psychological approach to learning. Sazilah is a Professor of Computer Science at Universiti Teknikal Malaysia Melaka, who currently brings her knowledge overseas to the UK as Visiting Professor at the Web Science Institute, Southampton. Sazilah is versatile in her teachings, spanning from semantic Web research to learning analytics, which covers part of her presentation at the conference in November. Whether you're familiar with the concept of ontology or not, this won't be a session to miss. Sazilah will present her investigations into the influence of learning analytics and ontological approaches on learning efficiency. She will discuss the benefits of designing an ontology-based data integration model, how to do this successfully, and how to query the respective repository in a graph database.




Innovative workshops
The inventor of Germany's first lecturing robot assistant, Jürgen Handke, will deliver an interactive workshop at OEB this year. As a pioneer of robotics and professor with 7,000 users on his learning platform, Jürgen is eager to reimagine the vision for future learning in his own way – 'don't talk, just do it'. This two-part workshop will focus on 'Asynchronous Digital Teaching and Learning: Development – Delivery – Use', meaning there are plenty of opportunities to expand your knowledge of digital learning. Jürgen's session will identify issues of traditional teaching, specify the solutions, and actively apply them to the relevant disciplines. Jürgen's impressive knowledge of EdTech solutions will drive participants to fully understand and apply everything learnt to in-class scenarios, making this workshop an invaluable experience for educators.



Stephen Downes is one of the originators of the first-ever MOOC, who currently works at the Digital Technologies Research Centre in Canada. Stephen specialises in new instructional media and personal learning technology and has taught in various higher education institutions. At OEB this year, Stephen is sharing his research and experience in a pre-conference workshop. This session on 'Ethics, Analytics and the Duty of Care' will be vital to everyone interested in improving their strategy with AI and learning analytics. What makes Stephen's workshop unique is his exploration of the ethical issues surrounding these technological solutions to learning. The goal of this session is to maximise knowledge of ethics in digital learning, and to actively apply this to real-life scenarios with exclusive skills learnt at the workshop.




Collaborative debates

OEB Global prides itself on delving deep into the digital learning world, so how best to kick it all off? The Learning Battle is sure to set the scene for the coming days of the conference, driven by Chairperson Inge De Waard. Inge is a Strategic Instructional Designer and award-winning learning innovator based in Belgium, who is excited to see this debate take off at Berlin in November. The Learning Battle encourages everyone to get involved in an energised debate, which will blend serious discussion with lively exchanges. The aim is to create the best learning approach and share your ideas in 3-minute argumentations, or you are welcome to observe in the audience. We encourage participants to get involved, however, because there are trophies to be won!
The OEB Plenary Debate has a distinct topic for discussion this year: 'This House believes education should move to the metaverse'. This parliamentary-style debate is led by a panel of experts, who will discuss an important yet sometimes controversial issue for the future of education. The Metaverse offers an 'extended reality' for all who enter, which has been viewed as either an immersive tool or a digital distraction. This debate will truly capture the message of OEB Global's overall theme for 2022, 'Re-imagining Our Vision for Learning', while examining the rise of the powerful Metaverse.







Written for OEB Global 2022 by Chloë Sibley.