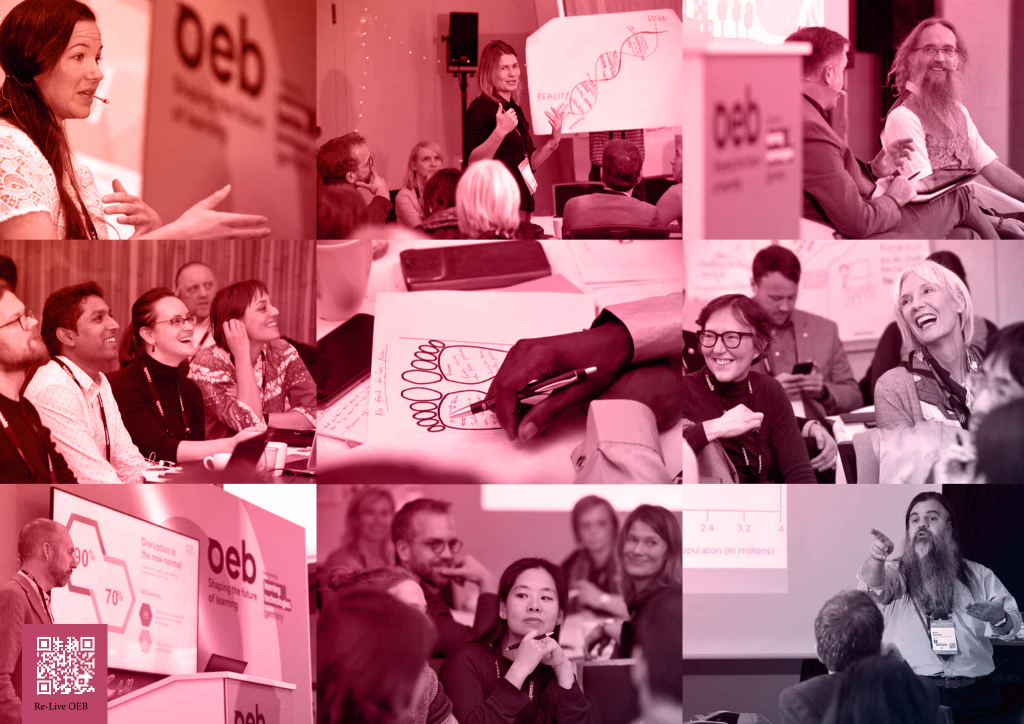 On November 23-25 this year, OEB Global returns as the cross-sector conference for digital learning and teaching. This international showcase will host a highly anticipated assembly of speakers, innovative pre-show workshops, countless interactive seminars and much more. With over 2,500 people expected to attend, it's going to be an unmissable event for those in the EdTech, L&D, and digital learning industries.



Online Educa Berlin (OEB) first opened its doors in 1995. Cut to 27 years later, and this conference has grown into one of the most distinguished and recognised events in the digital learning and training industry, attracting visitors from Europe to Asia, all the way over to the Americas and Australia.





Plan your visit

The first thing to think about when visiting any international conference is how to get there. With visitors travelling to OEB from over 70 countries this year, we want to make sure everyone is prepared with their flights, accommodation, and transport while in Berlin. The OEB Conference conveniently takes place in the InterContinental Hotel, which is easy to get to from the airport, and is surrounded by other hotels all within walking distance or a short ride in the car or public transport. In terms of transport, Berlin is a well-connected city with the subway, bus rides and taxi services. You can get a direct bus from Berlin Brandenburg (BER) airport to the hotel, or a Deutsche Bahn Intercity-Express train from Halle(Saale)Hbf to Berlin Hauptbahnhof.

The OEB Conference is compiled of three days packed with content, covering everything from the Metaverse's role in EdTech, to optimising digital learning tools for your corporate organisation. With so much to take in, we recommend organising and planning your OEB experience first, in order to prioritise what you'll be attending and when. Closer to the event, the official app will return for this year, allowing you to create your own schedule of seminars and workshops, and ensure you don't miss any of our distinguished keynotes.


We spoke to Pär Lager, one of our keynote speakers, who advised what everyone should do before arriving at OEB this year: 'Get prepared! Have an internal session in your organisation prior to OEB and look at the programme together. Ask your colleagues what you should look for – for the team and the organisation.' The OEB Global 2022 Programme is packed with the dates, times and locations of the conference sessions, spotlight talks, learning cafés, debates and much more. Use this guide to help plan your own time around it – this is so you have the chance to network with people, catch up with colleagues, and of course fuel yourself with coffee and lunch.



Explore the surrounding capital

A fantastic feature of OEB is its location. Set in the heart of Germany's capital, you are minutes away from one of Berlin's favourite Christmas markets, which are conveniently thriving in November when the conference takes place. Visiting the Christmas market introduces you to a magical aspect of German culture, adding to your OEB experience as well as providing a festive hub for networking and socialising. Fruitful conversations are often better with a backdrop of twinkling lights, accompanied by bratwurst and mulled wine! There are plenty of smaller markets right around the corner from OEB, but one of the liveliest is also nearby. OEB Global 2022 is only 5 minutes from the market at Breitscheidplatz if you're eager to explore this historic city.


Fancy a digital detox? InterContinental Berlin offers a luxurious hotel spa, where OEB participants can relax and unwind and a reduced price. This spa is complete with a pool, fitness area, bubbling hot tubs as well as a steamy sauna. This 1,000 m² well-being zone offers the ideal place to take it easy after a long day of travelling, getting you pampered and ready for the conference.


Finally, join everyone at Marlene's bar, InterContinental Berlin's cosy meet-and-greet destination. The OEB team encourages you to come and meet your fellow participants, and engage in enlightening conversations in a social setting.




Keep in touch!

As we get closer to OEB Global this year, make sure you don't miss anything happening online beforehand. Engage with the OEB community and chat with us across our social channels, use the hashtag #OEB22 to be the first to hear any event updates and the latest news from the industry. Subscribe to our monthly OEB Insights newsletter, in order to get the inside scoop of everything related to digital learning and training, brought to you by our leading experts.




Written for OEB Global 2022 by Chloë Sibley.