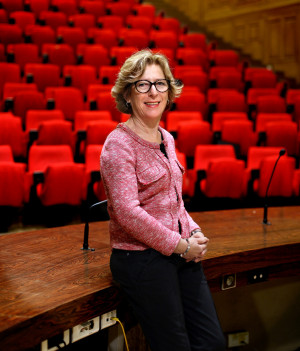 Geneviève Fioraso, French Minister of Higher Education and Research
The digital revolution is under way. The third revolution after the invention of writing and the invention of the printing press, it is both a chance and a challenge for our ever-changing universities. It is a chance to rethink how knowledge is developed and transmitted interactively by putting students at the heart of our pedagogical project in higher education. And a challenge in terms of building an innovative, high-performance university that is open to the world.
That is why I made sure that the law of 22 July 2013 on higher education and research in France placed digital technology at the centre of our ever-changing university system, with the twofold objective of student success and a higher level of knowledge and qualification in initial and continuing education. It is notably because our students' success will be made easier with new pedagogical practices that we will truly achieve the ambition expressed by the President of the Republic and the Government to ensure that 50% of each age group obtains a higher-education degree and qualifications. At the heart of the Ministry of Higher Education and Research's strategy lies a digital agenda for the next five years, backed up by 18 proposals and the France Université Numérique foundation, which supports the development of on-line training. An initial effort has led to providing institutions of higher education with a national platform for hosting MOOCs. Thousands of people have signed up since the end of the month of October.
Initial training is emphasized, but so is continuing education. Training throughout a person's lifetime is indeed a crucial challenge for universities, which have to foresee constant changes in the world of work and in society.
Teachers will be encouraged to develop innovative digital tools in their teaching practices and will be able to take advantage of training in how to use them. In the digital era, the transmission of knowledge can no longer be thought of as a one-way street. It is interactive and cannot help but be enriched by these new contributions, without calling into question the quality of content. Research on digital issues will also be encouraged.
The development of on-line courses over the next ten years will redefine the international academic map. France plans to fully play a role that is in keeping with the quality of its system of education and research, in cooperation with its European partners. Furthermore, the French digital agenda is completely consistent with the European "opening education" programme of September 2013. France Université Numérique has close interactions with its ecosystem and seeks to be a lever for providing access to knowledge for everyone and an asset for educational institutions, notably in the French-speaking world.