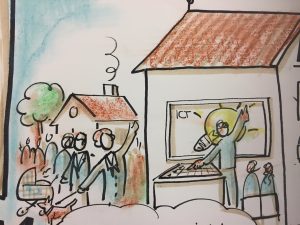 Considering the major fluctuations and reorganisation in some of the most established education companies, and new developments that education companies are undertaking in order to accommodate the requirements of digitisation, we find ourselves in a time of market uncertainty. Out of this relative instability, however, we are seeing the rise of many new and unique opportunities that are paving the way for future developments in the industry. An entire new segment of the education industry is finding its feet globally: the education start-up ecosystem.
The U.S. market is regularly referenced as the touchstone of education start-up environments due to its market size and the fact that the majority of large investment in education start-ups to date has occurred there. Whilst European edtech and start-up investments have been historically more conservative, there are new venture funds, angel investors, and state support systems springing up and making the entire start-up ecosystem more stable and sustainable. In Germany alone, there are now funds of over six billion euros that are dedicated to start-up investment, and one of the first really large endeavours in edtech is occurring in the form of an investment of over 20 million euros in an "education tutoring application".
The success of education products relies on local knowledge and insights into regulations and real-life use cases. This strength in the development of a great number of educational offerings can also be a challenge when considering the expansion and internationalisation of a small company with limited resources. Changing data-security regulations for digital usage and the introduction of a number of new frameworks for interoperability or development standards in a variety of markets are making new demands on existing and developing education start-ups. The fact that a number of these regulations and framework architectures encompass multiple markets, however, means that certain market access hurdles are being lowered.
Gaining access to the right customer base can be problematic, not only for start-ups looking to expand into markets outside their local base, but also for locally oriented entrepreneurs. The fact that the customer and user base of an education product or service are not necessarily one and the same, or require multiple roles and permissions, add to the unique challenges of market entry. Furthermore, normal consumer channels or bulk purchasing or contract options are at times not possible.
The traditionally developed institutional school market can also be tough to enter, since it may have stricter regulations and established purchasing channels. Increasing partnership opportunities with established education companies, such as some of the larger education publishers, are testimony to the changes in the industry and provide interesting and emerging possibilities for support and market access. The emergence of new education start-up alliances also provides new possibilities for access and knowledge exchange.
The market share of education start-ups is still small compared to other industry start-up bases like FinTech or Services. This has to do with a number of factors such as the fragmentation of the entire industry globally, which can hinder expansion plans, as well as a longer path to return on investment. Thankfully, a number of investors and funds are appearing that have knowledge of the education market and understanding of the longer sales and customer-acquisition cycles. Additionally, initiatives in the European market that are connecting the experience of established education companies, schools or teachers and entrepreneurs are paving the way for new growth opportunities. A rise in the number of start-up hubs and expert advisors is also ensuring the support of entrepreneurs in the industry.
There are inherent challenges when developing for the education market. However, the education start-up landscape is growing in terms of funding, increasingly open standards, and support networks, which suggests a certain increase in stability despite the uncertainty.
Written by Beth Havinga
http://start-up-initiative.ey.com/wp-content/uploads/2017/02/EY-Studie_Venture_Capital_and_Start_ups_in_Germany_2016.pdf
http://www.edtechtours.com/edtech-tours-1
https://www.gruenderszene.de/allgemein/math-42-finanzierung-klett
Beth Havinga will be moderating and speaking at OEB in the following sessions:
EdTech: Innovation in Uncertainty (1):
EdTech: Innovation in Uncertainty (2):
Multinational Perspectives on Next-generation Digital Learning Environments