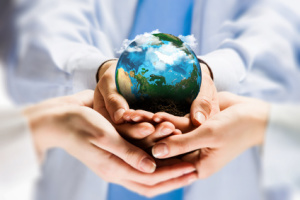 According to His Highness Sheikh Mohammed Bin Rashid Al Maktoum, Vice-President and Prime Minister of the UAE and Ruler of Dubai: "Dubai has become the region's hub for new technology, which boosts our confidence in our vision for the future, confirming the soundness of our path and encouraging us to go forward."
Earlier this year, he launched the UAE Green Development Strategy to build a green economy in UAE. In order to achieve sustainable development for the country, the UAE must create a green economy. The country's Green Development Strategy aims to build an economy that preserves the environment and to have an environment that supports economic growth. The initiative aims at building an economy that will provide opportunities to all citizens, preserve resources and enhance UAE global competitiveness.
The UAE Green Development Strategy includes six tracks:
• Promote renewable energy, clean fuels, and energy efficiency usage.
• Encourage investments in green economy and green technologies and to create job opportunities for citizens.
• Green city, including urban planning, sustainable transportation, and clean air initiatives.
• Climate change through reducing carbon emissions, encouraging organic agriculture, and preserving biodiversity.
• Rationalize the use of our water and energy resources, encourage recycling, and raise environmental awareness.
• Green technology focus on carbon capturing and storage technologies plus generating energy from waste.
Rapid advances in information technologies impose the need for new innovations in environmental studies to take advantage of new technologies by offering flexible and smart learning environments.
The health and environment track of the Innovation Arabia 8 Conference will introduce some innovative smart learning ideas which provide novel key features, including flexibility and ability to adapt to the context of the region. The health and environment track will provide learning practices and pedagogies that focus on technology-enhanced learning, which uses multiple smart learning tools, "hubs" including virtual learning environments and mobile learning.
Find more information at: http://www.innovationarabia.ae/tracks/health-and-environment