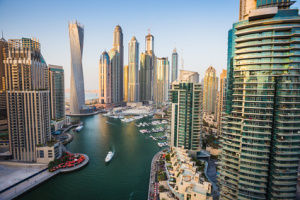 Dubai is a global city located in the emirate of the same name, one of the seven constituent monarchies of the United Arab Emirates (UAE), whose capital is Abu Dhabi. The president of the United Arab Emirates is His Highness Sheikh Khalifa Bin Zayed Al Nahyan. Vice-President, Prime Minister and Ruler of Dubai is His Highness Sheikh Mohammed Bin Rashid Al Maktoum.
With a population of 2.1m, of whom about 17% are UAE nationals, Dubai is the largest city in the Emirates. A leading Middle Eastern financial and cultural hub, it is famous worldwide for its ambitious building projects, including the world's tallest skyscraper, Burj Khalifa, and its inventive use of land reclamation.
The economy of Dubai, for a long time founded on its oil reserves, has recently diversified. While crude oil still accounts for 45% of the UAE's exports, Dubai has branched out into financial services, tourism, and trade, benefiting from its strategic location on the Gulf. The Mercer Quality of Living Index rates Dubai as the highest-ranked city in the Middle East. As a whole, the UAE have a high per capita GDP and an excellent standard of living, ranking second in the region on the Human Development Index.
• MUSEUMS and SIGHTSEEING
Dubai Museum and Sheikh Saeed Al Maktoum's House
A trip to the Dubai museum will give you a glimpse into Dubai's fascinating past. We also advise visiting Sheikh Saeed Al Maktoum's house to view a splendid collection of old photographs. Dubai's Heritage and Diving Village is a must see for all traditional arts and crafts lovers.
Al Bastakiya
Al Bastakiya Area in Bur Dubai dates back to the early 1900s and occupies the eastern section of the old town along the Creek, extending to a length of 300 meters, and depth of 200 meters in the southern direction. This area is an important illustration in the history of architecture and the city's urban development.
Jumeirah Mosque
One of the largest and most beautiful mosques is the Jumeirah Mosque. It is a spectacular example of modern Islamic architecture and is built of stone in medieval Fatimid tradition. The mosque is a Dubai landmark and is particularly attractive at night when subtle lighting throws its artistry into relief.
Burj Al Arab
Burj Al Arab, which has become an iconic symbol of Dubai, is a part of The Jumeirah Beach Resort, was designed to resemble a billowing sail. The hotel soars to a height of 321 meters, dominating the Dubai coastline. At night, it offers an unforgettable sight, surrounded by choreographed colour sculptures of water and fire. This all-suite hotel reflects the finest that the world has to offer.
Burj Khalifa
Dubai's unique landmark and urban masterpiece, the skyscraper is a world-class destination and the magnificent centrepiece of Downtown Dubai. With a height of 829.8 m (2,722 ft), the world's tallest building and tallest man-made structure, is surrounded by hotels, must-visit shopping destinations, and a world of entertainment options. More than just the world's tallest building, Burj Khalifa is an unprecedented example of international cooperation, a symbolic beacon of progress, and an emblem of the new, dynamic, and prosperous Middle East. The Burj offers unparalleled vistas from the Gulf to the Arabian Desert and beyond. Situated on the 124th floor is the Burj Khalifa's Observation Deck, where at 442 meters, it offers visitors the most magnificent views of the Dubai skyline from what is considered the highest outdoor observation deck in the world
Dubai Palm Islands
Palm Islands Dubai (Jumeirah Palm Island is one of the islands) are one of the most ambitious real-estate developments on earth, heralded as the eighth wonder of the world. These artificial islands have been designed to cater to the tourists coming to the city. They house luxury resorts and hotels such as the Atlantis and private villas, shopping malls, water theme parks, as well as eateries and health spas. They are definitely very spectacular and not to miss by anyone visiting Dubai.
• SHOPPING MALLS and SOUQS
Dubai is labelled the "Shopping Capital of the Middle East". With so many shopping malls and souqs, there's no better place to find products at unbeatable prices. It is truly a duty-free shopper's paradise. Dubai's numerous shopping malls cater to every consumer need: clothing both prêt a porter and haute couture, jewellery, electronics, furnishing, gift items and souvenirs, sporting equipments, and almost anything else your heart desires will likely all be found under a single roof. Fortunately, this year's congress is taking place during the famous Dubai Shopping Festival. All shopping malls are open every day of the week from 10:00 to 22:00, except Fridays when some shops open after the Friday Prayer (14:00 onwards)
SHOPPING MALLS
BurJuman Centre
The high-fashion BurJuman brings the pinnacle of luxury and fashion before your eyes. Here's where the world's leading brands mingle comfortably with one another: Louis Vuitton, Dior, Hermes, Valentino, Emanel Ungaro, Loewe, Etro, Cartier, Van Cleef & Arpels, Christian Lacroix, Salvatore Ferragamo, Just Cavalli, and many more.
Deira City Centre
With over 350 shops, Deira City Centre is one of Dubai's most popular malls. It adjoins the Sofitel City Centre Hotel opposite the Dubai Creek Golf & Yacht Club.
Dubai Mall
With a retail-space area of about 35 hectares (3.8m sq ft) and an internal area of about 55 hectares (5.9m sq ft), the mammoth facility comprises posh restaurants, an Olympic ice-skating rink, and the largest goldfish bowl you've ever seen. The Dubai Mall is open daily from 10:00 to midnight.
Dubai Outlet Mall
The Mall is home to over 200 stores offering top brands at heavily discounted prices of up to 90 percent (last season's products of course). Products available include clothing, shoes, sportswear and sporting goods, perfumes and cosmetics, electrical goods, watches, sunglasses, furniture, and toys.
Festival Waterfront Centre
The Festival Waterfront Centre brings together a magnificent retail offering, an unsurpassed selection of restaurants and cafés, and a rich entertainment experience, all within an architectural masterpiece. It features 550 shops, including 20 anchor stores, 90 restaurants, cafés and bistros, a 12-screen cinema, and a vast entertainment centre.
Ibn Battuta Mall
Named after the famous Moroccan traveller and explorer, the Ibn Battuta Mall is split into five main courts: China, India, Persia, Egypt, and Andalusia.
Mall of the Emirates
The Mall of the Emirates on Sheikh Zayed Road has over 400 stores and entertainment options that include SkiDubai, the world's largest indoor ski park, a 14-screen cinema, and Dubai Community Arts and Theatre. It also houses 65 restaurants and coffee shops, with everything from fast food to themed restaurants and exclusive dining alternatives. This is one of the largest malls outside North America and one of the biggest in Dubai.
Mercato Mall
"Mercato" is the Italian word for "market," and this mall is modelled upon the Italian Renaissance. The structural design is intended to create the feel of the Mediterranean.
Wafi Shopping Mall
The Wafi Shopping Mall is regarded as one of the most elegant shopping complexes in Dubai, having distinct pyramid-shaped atrium roofs. It houses a popular family entertainment centre, the Encounter Zone, features a roller-blading rink, virtual reality simulators, a 3D motion theatre, and a crystal maze. The Khan Murjan underground souk, which was recently inaugurated, is part of the Wafi Center complex and is designed like the 14th century Souq – the Khan Murjan Caravanserai in Baghdad, Iraq.
SOUQS
Gold Souq
The gold souq is a vibrant centre for gold-loving buyers. There are plenty of designs to choose from. The most popular are 24-carat, but you can also get 18, 21, and 22-carat gold.
Souq Madinat Jumeirah
Only 15 minutes away from the forum venue, Souq Madinat Jumeirah offers a colourful and vibrant market experience in an Arabian city.
Souq Al Bahar
Souk Al Bahar is an Arabesque shopping mall and entertainment destination located in the heart of the prestigious Downtown Burj Dubai, on the Old Town Island. Souk Al Bahar includes over 130 shops in an eclectic retail mix that includes 25 restaurants, cafés and lounges framing the souk's extensive waterfront promenade. Souk Al Bahar is linked to the Dubai Mall and Burj Khalifa, the tallest building in the world.
Spice Souq
The Iranian shops in the spice souq stock just about any spice you can think of. The narrow alleyways of the souq are fragranced by the pungent spices the vendors have on display. Big barrels of cumin, dried lemons, and coriander seed surround you on all sides and vie for space alongside baskets of star of anise, stacks of cinnamon sticks, and oodles of frankincense.
• DESERT SAFARI and DUBAI TOURS
Desert Safari
A trip to the Middle East is not complete without exploring the massive sand dunes of the Arabian deserts. Why not take a camel ride, or try sand surfing down the huge red sand dunes when the sun goes down? It is also possible to huddle around a campfire for a BBQ dinner and belly dancing show?
The Big Bus Tour
The Big Bus aims to give you the most enjoyable and memorable experience of life in Dubai. From the towering sail-shaped Burj Al Arab hotel to the mysterious gold and spice souqs, what better way to see Dubai's breathtaking views? So, hop onto the big brownish- red double-decker bus for a quick tour of Dubai's main attractions.
Hot-Air Ballooning
Glide gently in a hot air balloon over giant sand dunes, wandering camels, oases, and rugged mountains while you marvel at breathtaking views of the sunrise and its magical effect on the desert vistas.