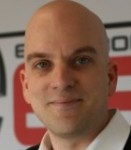 Today's knowledge workers are dealing with a world full of volatility, uncertainty, complexity and ambiguity – the so-called "VUCA world". Jens Hilgers, CEO of Turtle Entertainment GmbH and Geewa Games, Facebook's top 10 game developer and publisher, spoke to the ONLINE EDUCA News Service about the challenges faced by knowledge workers and how games can support them in the lifelong learning process.
Hilgers himself started playing video games when he was ten or eleven years old – a pastime he later turned into his job, studying software engineering and becoming a serial entrepreneur by developing websites that were dealing with computer games. When he started his professional career, he strongly believed that computer games would replace the more traditional entertainment forms such as movies and TV. Although this has not yet fully happened, computer games are extremely popular with the younger generation – the workers of the future – and already influence how many knowledge workers operate.
Why? Because the virtual world ran ahead of the real world and, as Hilgers foresaw, he soon found that the experiences and skills applied in the gaming world also transfer well to the real world. For instance, in a multi-player game, you need to cooperate with people from different countries and backgrounds – just like in global companies with international teams. Whereas before it was difficult enough to get CEOs together for a conference call, it's now standard procedure for many international companies to have regular virtual meetings. "In both worlds, the virtual and the real one, you need to be successful in a relatively short period of time," says Hilgers. "Nowadays, ten-year-olds already learn through online games to collaborate with different people from different cultures in order to achieve a common goal, a skill extremely valuable in the 21st century workday."
But gaming is not just teaching our kids and us how to cooperate in a globalised work environment.  Online games are at the forefront of technological developments. At one point, Geewa Games, which interacts with 10 million gamers every month, was faced with such an influx of players from all over the world that scalability became the foremost technological challenge. The key to their success was cloud computing – something that was unthinkable five or six years ago. However, the second biggest challenge is as old as humanity itself: "Whenever it gets competitive, people try to cheat," explains Hilgers. "They try to find out how far they can go in order to win". Hence, protection against cheating is a major technological issue for anyone dealing with competitive online games, and the younger generation is quite ingenious when it comes to finding loopholes. It's not always easy to stay ahead of them.
In a nutshell, the online, mobile world is constantly changing and requires agility and accessibility – features that large companies might find hard to implement due to their organisational structure. Additionally, in large companies, the workers' differences in age can be a major issue, as on the one hand the older generations might be sceptical to change and be hesitant about adopting new tools such as social media, while the younger generation won't work without them.
Before online games became a popular pastime, people didn't expect instant feedback for every step they took. Nowadays, younger workers, who are used to being rewarded quickly and constantly, are more motivated to work when they are being "gamified", meaning when gaming methods are applied to their non-gaming work contexts.
Originally  a popular marketing tool, gamification  soon became a useful tool in learning, too. When it is applied correctly, it makes technology more engaging, encourages people to perform tasks they would otherwise think boring and makes their educational experience much more effective. The fun in any good game is actually the built-in learning process[i], no matter whether the game is considered to be "entertainment" or "serious". Thus, the same factors which make well-designed games highly motivational also make them ideal learning environments. Two important lessons for any company which wants keep their knowledge workers "flowing" in the VUCA world.
The huge advantage that younger workers have is that, having grown up with games, they've learnt to learn constantly. To get to the next level, an online gamer needs to acquire new skills to proceed. He or she needs to concentrate on several tasks simultaneously whilst also thinking about what's round the next corner. But how can decision-makers who lack the generational experience of competing in online games implement the right strategy for their workers and thus keep up with the ever-changing challenges of today's world?
The solution is simple: "Start playing," is Jens Hilgers' ultimate advice, "When you're dealing with games, be it gamification or just understanding what kind of games your people play, don't talk about things without experiencing them yourself. What's most important in today's environment is the need to be open and agile enough to try these services, to understand them and to get a feeling for what excites people, before you can make a good judgement."
Jens Hilgers will be part of BUSINESS EDUCA's plenary session entitled: Learning in a VUCA World, How Knowledge Workers Learn to Innovate, on Friday 29th November from 09:30-11:00.