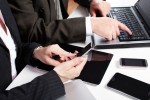 Revolutionary social and mobile technologies are providing organisations with the tools needed to increase workplace performance and facilitate the education of staff. How can businesses exploit these tools efficiently and cost-effectively?
This year's Business EDUCA features several examples from experts of business-specific projects that use social and mobile technologies to overcome barriers, extend learning ability and support employees.
By Matthew Labrooy
Keith Quinn of the Scottish Social Services Council will be presenting the results of the project Going Mobile: Comparing outcomes of technology-enhanced situated learning with classroom approaches to workforce development. This project compares traditional classroom training for employees with technology-enhanced learning that is delivered in the workplace, on mobile devices.
Quinn explains that while there is already significant research on authentic and situated learning and assessment, as well as research on how technology can be used to support learning, there is little research regarding technology-supported on-the-job learning versus "classroom-based" learning.
The Going Mobile study compares these two learning possibilities. The initial data supports the view that, although there are challenges in learning through mobile devices, the approach is as effective as the classroom approach. In addition to this, the use of mobile technology provides certain key benefits around managing the logistics of learning and development and increases the learner's sense of ownership and control over the experience.
As part of the session Quinn will detail the full results of the project and discuss the challenges of mobile learning technology and how they can be overcome.
Speaking alongside Quinn will be Eran Gal, a knowledge and competency management expert and the lead researcher for the project Success Factors in Implementing Performance Support Platforms.
The project studied the use of performance support platforms – a method of real-time learning and performance support. These platforms integrate learning and task performance into a single action by providing information and guidance about the task in response to specific needs and situations. This enables learning while working; despite the potential of this method, few studies have been conducted to measure its effectiveness as a learning tool. Research has proven the ability of performance support platforms to enhance task performance but its capacity to provide effective real-time learning has remained in question – until now.
Gal's presentation will provide an overview of performance support platforms, illustrate the methods used and outline the results of the study. Gal will present a performance support platform model and practical tools to apply when implementing such solutions.
However, such approaches may not be suited to all learners. Andreas Hörfurter, from common sense eLearning & training consultants will present the project Mobile Learning for Decision-makers: A Hard to Reach Target Group? The aim of this project was to produce an effective method to deliver mobile learning content to decision-makers and develop guidelines and technological approaches to mobile learning.
The starting point for the project was the understanding that decision-makers are a target group that is often difficult to reach when it comes to more traditional learning environments: they are often on the move, have little time and are reluctant to participate in formal learning scenarios. The initial research found that their learning needs were best focused on generalised content and short snatches of information, rather than detailed in-depth learning content. As such, it has been difficult in the past to provide decision-makers with effective and useful e-learning tools.
The project has taken advantage of the emerging mobile and computing technologies that guarantee that almost all decision-makers have a smart phone or portable computer at hand. However, for e-learning to be accepted by decision-makers, the project found that content needs to be turned into micro learning elements – brief, concise and to the point. Decision-makers can benefit from mobile learning if the content is specifically geared towards their tasks and situation, and if the technology allows for fast and device-independent content production and delivery.
Participants in this session will gain a new perspective on the target group and their needs, on the implementation of mobile learning and on design guidelines for mobile micro learning.
The Challenges of, and Opportunities for, Using Social and Mobile Technology to Build Workplace Performance will take place on Thursday 29th November from 14:15 – 15:45.
For more information on these ONLINE EDUCA BERLIN sessions exploring mobile and social technologies, as well as the full programme and list of speakers, please click here.