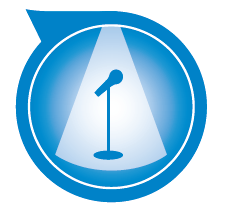 A new addition for ONLINE EDUCA BERLIN's 20th anniversary, on the Spotlight Stage you will see industry favourites in a new light, meet the up-and-coming game-changers and be introduced to unconventional ideas in unique, interactive formats.
During both conference days, the rolling programme of expert speakers and special guests will include interviews, debates, panel discussions, music and more.
Thursday, December 4th    
Taking the stage first-off on Thursday will be Jay Cross and Howard Rheingold, together in a candid 1:1 discussion about their latest projects and insights into peer and informal learning. Up next, if you think you know data then come prepared to Viktor Mayer-Schönberger's Learning with Big Data Base Camp. The Professor of Internet Governance and Regulation at the Oxford Internet Institute, University of Oxford, has written about and researched the controversial topic extensively and plans to teach the audience a thing or two.
See the Head of Innovation at the Ellen MacArthur Foundation, Ken Webster, take a two-handed exploration of systems thinking in e-learning, as a graphic recorder weaves images into the presentation in real-time. He will be followed by researcher Fabian Hemmert, who will introduce to the some of the latest projects and innovations to come out of Berlin's Design Research Lab. Are we all smartphone zombies, mindlessly addicted to technology? The Design Research Lab's creative tools will make you re-think your relationship with tech.
Sit up and pay attention as the late afternoon hosts two multi-disciplinary practitioners who know a lot about engagement. First up David White, Head of Technology Enhanced Learning at the University of the Arts London, will be exploring how we can re-humanise e-learning. While we have become efficient at distributing the core curriculum to tens of thousands of people via centralised institutional systems and MOOCs, have we dehumanised education along the way?
Later Helen Keegan, Senior Lecturer in Interactive Media and Social Technologies at the University of Salford, UK, and expert in curriculum innovation and the development of new pedagogies, takes us on the wild journey experienced by her students in what became an augmented reality teaching experiment to go down in history.
Keegan tells us: "I wanted to see what would happen if I injected mystery and intrigue into the curriculum. I'm not going to say too much now other than it was risky, exhilarating, scary (at times), and ultimately transformative for all involved. I still get goose bumps thinking about it."
Before Keegan starts scaring the audience with her teaching techniques, the 'Berlin Singularity Group' will reveal what's in store for the future – a future that many may find difficult to fathom.
More and more we find that the impossible is becoming possible and the future most of us thought would not come in our lifetime is coming sooner than expected. Made up of experts in Artificial Intelligence, Augmented Reality, cybernetics and more, the Berlin Singularity Group will paint the picture of what's conceivable in their fields and how these developments will impact education.
That won't be all; the day will also include a special appearance by Chris Bishop from the Future Workplace who, before becoming a successful consultant, was a sought-after session musician in New York, working with many famous artists including Robert Palmer, Darius Brubeck, Chuck Berry and Bo Diddley. He will be joined by local Berlin musicians for a lunch-time jam session.
At the end of the day, Australian comedian Amelia Jane Hunter, who has been described as "a brilliant tour de force of laughter" will light up the stage with her energetic comedy.
Friday, December 5th
Starting on a dynamic note, opening the Spotlight Stage on Friday will be Donald Clark from Plan B Learning going head-to-head in a heated mini-debate, with a soon to be announced contender, about the whether technology can replace teachers.
Next up will be Julia Hobsbawm in discussion with Richard Straub. Hobsbawm, a British entrepreneur who has re-imagined what the skill of networking and knowledge management needs to be for the not-yet-employed and the middle manager alike, will join Straub, the President of the Drucker Society Europe, to address questions such as: How can we re-imagine education to prepare today's generation for the world of work in a hyper-connected, highly mobile world? What strategies do they need to succeed in a globally competitive workforce? And what will the term 'social network' mean for the second quarter of the 21st century?
After lunch, the stage will come alive with inspirational insight from some of the world's leading young entrepreneurs. Moderated by Beate Wedekind, renowned journalist, publisher and founder of the NEW//AFRICA Journal of Change, the panel will include Dupsey Abiola, CEO and Founder of Intern Avenue, an online internship website designed to connect employers with students and graduates; Matteo Achilli, the 22-year-old who has created a digital solution to support Italy's unemployed; Sinead Mac Manus, social entrepreneur and CEO and co-founder of Fluency.io, a digital skills start-up getting young people into jobs; Amanuel Abrha, founder of the Ethiopian start-up AhadooTec, which creates tools to teach students 21st century skills; and Mark Smith, founder of Code College.
Hear how they have harnessed the power of technology to provide new opportunities for the next generation and why their forward-thinking solutions have set them apart.
The entrepreneurial spirit will continue throughout the afternoon. As the business of edtech flourishes, and investment and revenue continue to grow, more and more this is spurring innovation. A pitching session led by tech mentor and Managing Director at Hack&Craft Harry McCarney, will reveal how start-ups from around the world are finding new solutions to fill the gaps in education.
Last but not least, a group of influential industry bloggers will be stepping away from the glow of their computers and into the OEB spotlight; bringing their opinions to the stage. Moderated by Bert De Coutere from the Center for Creative Leadership, the panel will include Stephen Downes, Senior Researcher, National Research Council (NRC), Canada; Craig Weiss from E-Learning 24/7, USA; Wilfred Rubens from the Open University in the Netherlands; and more to be announced. They will be providing an OEB wrap-up, discussing what new developments and solutions they discovered throughout the two days, and will have their say on the future of technology-enhanced learning and training.
Speakers on the Spotlight Stage will encourage you to Join in the discussions; have your say or sit back, relax and enjoy the show.
See the full programme here.
Interview with OEB Spotlight Stage speaker Matteo Achilli