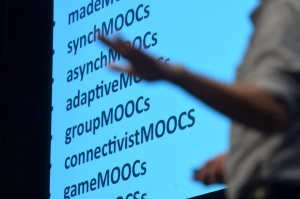 MOOCs and MOOPs were the acronyms of the hour, with Donald Clark presenting the OEB session 'Re:framing Learning' yesterday at a partner conference re:publica 2014 in Kreuzberg, Berlin. He gave re:publica audience a sneak peek of what's to come at this year's OEB, which will take place on December 3-5 around the theme 'Changing Learning'.
From social media to speed-learning and educational videos on YouTube to the Oculus Rift headsets, Donald covered a range of topics within the frame of educational pedagogies and tools that are changing the way we think and learn.
Praising Facebook for its foresight in buying the Oculus Rift technology, for the incredible potential the device offers learners, at the conclusion of his session, Donald offered re:publica participants the opportunity to try the Oculus for themselves, and experience its e-learning potential. As at ONLINE EDUCA BERLIN last year, at re:publica there was a long queue of people lining up eager to try the Oculus for themselves after the OEB session.
Luckily the ONLINE EDUCA BERLIN team was also able to catch a few more fantastic sessions at re:publica, which was this year themed 'Into the Wild'.
We caught a showing of the documentary 'Made in Africa', by Geraldine de Bastion yesterday evening, which explored the lives and projects of young Africans working for their own success and independence, particularly in co-working hub environments. Geraldine will be speaker in a session at eLearning Africa, coming up later this month in Kampala, Uganda.
This morning the '4 tech hubs' representatives – coming from Africa and Asia – took the stage at the session "From Silicon Alley to Silicon Savannah". Whether based in Africa, Asia or South America, these technology-dedicated centers tend to share the same goals: educating people through ICT and taking part in the economic development.
After that it was a full house for the session "Between Freedom and Fear – Digital Media as Tools of Expression and Repression", which featured experts such as the Ukrainian freedom of expression activist Oksana Romaniuk and iceaddis co-founder Markos Lemma. Over the hour-long session, the passionate panellists discussed how to face the Panopticon trend in digital society, which sees individuals being monitored online by governments or companies. Among the solutions they offered, it was broadly agreed that better education and guidance for young people in sharing information online is necessary.