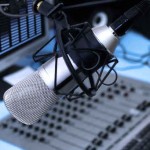 ONLINE EDUCA BERLIN will return to the airwaves in 2011 with live Internet broadcasting provided by Pontydysgu. This Welsh educational institution is a leading resource for information on radio, e-learning, ICTs and open education resources. OEB participants are invited to feature as guests and producers on one of the three live radio shows planned. Moderator Jenny Hughes of Pontydysgu spoke to ONLINE EDUCA BERLIN about shows lined up over the conference days.
Wednesday 30th
The first show will go out at 16.00, and tuning in is a simple matter. Download this DS 106 radio file, and stream the show on your computer's media player of choice. For Wednesday's broadcast, the show's roving reporters will catch up with some speakers and exhibitors and capture the delegates' feedback on how the pre-conference workshops are received, the highlights of the day and all the buzz behind the scenes.
Thursday 1st
Running at 11.45 – 13.00, this show will be based on the format of the popular BBC1 television programme Question Time. Graham Atwell of Pontydysgu will moderate a panel of four distinguished speakers while questions of all types – comical, serious, thought-provoking and inspiring – will be welcomed from the live audience and from Twitter and Facebook.
The Speakers' Lounge, at 15.00 – 16.00, is an interactive workshop run by Jenny Hughes and Dirk Steiglitz. Hughes says, "We'll start with a session giving listeners an overview of all you need to know to establish your own Internet radio station: the cost (which is not much now that people can take out pay as you go packages), how to come up with suitable content, setting up programmes and understanding the key players in radio: the stage managers, music mixers and technicians." After this crash course, participants will get to show off their skills at Friday's broadcast.
Friday 2nd
So with the participation of the newly-minted radio producers from the Thursday workshop, this live show goes out at noon, and it'll be a lively and action-packed send off for ONLINE EDUCA BERLIN 2011. Some of the keynote speakers will recap their main points for those who missed out, and delegates will give feedback on what they are taking from the OEB conference. Hughes says that they will again present some vox pops – thoughts from the lunch queue, the lobby and conference rooms so that their lunchtime offering is simultaneously informative and relaxed.