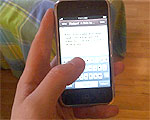 The language learning models of today favour intensive input and interactive learning tools. While the Internet has taken off as a tool for e-learning, there are many regions in the world where Internet access is unavailable or unreliable, and other means of incorporating ICT into education must be found. At OEB 2011, Michael Carrier of the British Council in the UK will look at how handheld technology is being used for English language learning and teaching around the world.
The head of English Language Innovation at the British Council in London says that since successful students need the maximum possible exposure to a language, not just a couple of hours a week on the drip-feed method, English courses at the British Council are increasingly incorporating ICTs. In developing countries, these are often independent of the Internet. Even in places with Internet access, bandwidth may be too limited for productive e-learning. With ownership of cell phones and other handheld mobile devices running at 80% in some developing countries, it makes sense to turn to handheld devices for delivering learning.
The British Council has launched projects in India and Africa with language learning via TV, radio, and handheld devices. M-learning (as mobile telephone learning is occasionally described) turns out to be more convenient for language learners already familiar with mobile phones in countries where computers are still an expensive novelty. M-learning is about to become an even richer and more beneficial didactic tool with the proliferation of applications under development. Expanding one's vocabulary with a mobile phone, often using podcasts, phonecasts and photography is changing the world of teaching and learning.
Michael Carrier has also studied the use of small portable devices for classroom use. The One Laptop Per Child initiative has brought many computers to classrooms in the developing world. In some countries, such as Uruguay, all school children have been given one laptop, using the laptop for classroom exercises before taking it away from school for homework. There has been a generational shift in collaborative and blended learning. The British Council is well aware that the English language learners of today were born into a wired world and use different learning styles.
Michael Carrier's OEB 2011 presentation is entitled Handheld Learning: Language Training Through Mobile Phones and Handheld Devices. He will speak in session LAN51 Language Learning Through Mobile Phones and Handheld Devices on December 2nd at 11.45-13.00.