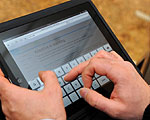 Out of a 2010 snow bound Online Educa Berlin, the hot topic of 'learning cultures' emerged and in 2011, this theme will be placed centre stage. Gone is the time for debating how learning cultures might change and why. Recognizing that we are now in an era of 21st Century learning should enable us to focus on how these new learning cultures can be effectively exploited and how formal educational structures, and those who work within them, can be helped to navigate their way towards full engagement.
We are increasingly faced with learning cultures that are both shaped by, and which shape, the technology tools we use. 'Pull' is the dominant expectation of the new learning culture, but what does that mean for our academic institutions intractably grounded in a 'push' mindset? New learning cultures demand a transformation, not just in the ways organisations deliver learning, but in how effectively educators themselves are able to put aside their own out-dated learning culture and embrace the new.
Equally, a constantly changing and unpredictable economy drives the need for businesses to seek strategic advantage through knowledge, work and innovation. They cannot afford to continue old learning in an environment that is changing the rules almost daily. If one adds in the factor that the technologies enabling 24/7 business activity also form the core tools of the new learning culture, then the innovations in workplace learning could provide a valuable lead for those wishing to adapt to new learning cultures in other contexts.
Over the past year we have seen dramatic evidence of how informal connections and networks can combine to empower individuals and democratize societies. The social networking tools of Web 2.0 are not about sharing the banal and commonplace (although many wish to portray them as such), but about reaching out to others with insights and knowledge about what is happening around us. Learning through the experiences of others has become an embedded element of the new learning culture. Learning from authority is now not just outdated, it is almost distrusted.
Online Educa Berlin 2011, with its overarching theme of 'New Learning Cultures', provides the perfect platform for exploring these new learning cultures. We hope to hear from educators and trainers, from technology providers and institutions and from learners themselves. We aim to ensure that valid insights into what constitutes new learning cultures will be shared; how they are characterized, what approaches work best with new learners and how they can be most effectively managed and supported. We want to debate the challenges of inertia in educational systems that are seen to be increasingly irrelevant and ill-equipped to match the expectations and ambitions of new learning cultures.
'New Learning Cultures' is a theme that not only extends across all learning contexts; formal, informal, lifelong learning, workplace learning – it is a theme for the 21st century, a century of a dizzyingly diverse, globalized, and complex, media-saturated society. 2011 Online Educa Berlin will aim to bring the key points into sharp focus.