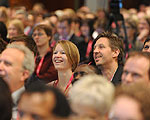 Snow and icy temperatures characterised the 16th ONLINE EDUCA BERLIN – but it still managed to spark an even hotter exchange of ideas indoors. A new paradigm of learning emerged during the sessions attended by a record number of 2197 participants from 108 countries: Leaders in business, education and research were urged to fundamentally change the learning culture of their organisations. It was felt that only an open climate that nurtures learning will enable companies, schools or institutions of higher education to adapt to the ever increasing dynamics of competitive global markets. New media and technologies will help to democratise and accelerate this process.

The potential for exploiting the advantages of an open learning culture is as big now as it has ever been – thanks to new technologies which allow for extensive collaboration and immersion. This became clear in numerous sessions, presentations and speeches throughout the conference.
"Technologies such as Web 2.0 applications, social networks and highly personalised online learning environments are powerful tools for leveraging creative potential, and both contribute to and enable the creation of new cultures of learning," said Gilly Salmon, Professor of E-Learning and Learning Technologies at the Beyond Distance Research Alliance at the University of Leicester.
"We have seen the new learning culture concept emerge and grow at this conference, fostered by the cross-fertilisation of educational sectors and disciplines," she said.
The idea of a 'learning culture' within a contributory learning environment was developed some twenty years ago in a business context. "But here in Berlin we have seen that the concept is not only highly appropriate to effective twenty-first century learning, it has now come into its own in many ways, from school to higher education. Innovative and contributory approaches to the exploitation of learning resources and tools are imperative," Salmon added.
"This is the end of the top-down approach to training and education. We must collaborate in order to compete."
New Culture, New Technology – Use Your Palm to Make Phone Calls

The new learner-centered paradigm goes hand-in-hand with the trend to personalise technology with mobile devices, social websites or communities of practice. Next-generation devices will be even more individualised, with interfaces based on human gestures, allowing for an unprecedented level of control.
OEB keynote speaker Larry F. Johnson, CEO of the New Media Consortium in Austin, Texas, said, "These devices react to us instead of requiring us to learn to work with them. In the future we will not even be aware that we are using a device – they will be part of what we wear. Keyboards are for old people."
Larry publishes the annual 'Horizon Report' on new technologies in academia and the creative world.
As an example, he pointed to the wearable and gesture-driven computing platform SixthSense, developed by the Massachusetts Institute of Technology to permit digital photographs to be taken by putting thumbs and index fingers together to make a picture frame. A camera worn by the user tracks the gestures and records the picture. Users also use their palm to dial a telephone number.
Bert de Coutere, Business Area Manager at IBM Learning Development Europe, reported that the trend was already visible at the OEB exhibition.
"Walking along the different vendor booths I was intrigued by new technology interacting with computer systems, such as touch-based coffee tables, eye movement tracking or gesture based interfaces.
"While I see good learning applications in the medical field for that, I still do not see any concrete applications of this technology in the corporate training world.
"At the next OEB, I expect to see more analysis and business intelligence technology. Data is everywhere, and with intelligent algorithms we can improve the matching of learning needs with people and content, even better personalise learning processes, and better track the evidence on the impact of training."
Learning Cultures at the Workplace: Measureable Strategic Advantages
For business, learning and sharing knowledge "is not something nice to do – but an imperative," said Josh Bersin, President and CEO of the leading US research consultancy, Bersin & Associates.
In his keynote speech at OEB he suggested two imperatives: Businesses coming out of a recession need innovation and new skills to regain or consolidate their market position and with their aging workforces must urgently transfer skills and leadership to younger people.
Josh Bersin explained, "Our research shows that effective learning is driven by leadership and cultural practices in an organisation, rather than the L&D department."
He described building trust in employees by discussing mistakes and valuing people who are passionate about learning. Bersin's team has identified dozens of measurable practices that directly impact a business by creating higher productivity, customer satisfaction and cost competitiveness.
Corporate Cultures of Collaboration Using Videos, Blogs or Wikis
At OEB 2010, and especially in its new strand Business EDUCA, there were a number of examples of the corporate sector embracing new technology in new learning cultures.
British Telecom for example equipped engineers with cameras to record how they solved specific technical problems. The results can be watched on a You-Tube-like corporate knowledge sharing community, according to the study compiled by Bersin & Associates. The videos are checked and rated by other BT engineers without any editing or censorship by the management.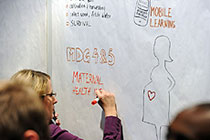 Other companies have used wikis to support the knowledge transfer from the more experienced engineers to their younger colleagues. One firm asked their young employees to come up with the initial comments on a wiki and then got their older colleagues to edit them. The information was geared to what the young needed, not what their elders thought they needed.
The United Nations University in Bonn encourages its employees to use team blogs as learning hubs with graphic recordings of team sessions providing strong visual reminders to facilitate knowledge sharing.
New Learning in Education: "Team Sports" and "Intimacy at Scale"
A new learning culture that takes advantage of digital technologies is also urgently needed in education. This became very clear in the ONLINE EDUCA debate, chaired by the former British MP Dr Harold Elletson. An overwhelming majority of the audience voted in favour of the motion that "The public sector has failed to use ICTs effectively in education and training".
Talal Abu-Ghazaleh, Chairman of the United Nations Global Alliance for ICT and Development (GAID) reminded the audience in his OEB keynote speech that about half of the world's population lives below the poverty line. Intensified efforts to improve the situation require ICT integration, a new education – and a completely new perspective.
Abu-Ghazaleh said: "Instead of using our eyes to look at different scenes, we should have new eyes that can see new scenes."
Another keynote speaker, Adrian Sannier of Pearson eCollege quoted H.G. Wells: "The history of man is a race between education and catastrophe. We are losing this race now. The education system is leaving huge numbers of people behind."
Sannier commented on the huge efforts to establish technology in schools: "This experiment is over. It does not work. We have not looked with new eyes but stayed with our culture – one instructor, one class. The teacher is the master. The one place we expect one person to create everything on his own is in the classroom."
He called for a reinvention of the culture of traditional institutions in three ways: They should see teaching and learning as "team sports", "keep score" (i.e. measure the results) and "fix what is broken".
Radical innovation comes from the margins, according to the British innovation strategist and OEB keynote speaker Charles Leadbeater when presenting examples of successful school education in deprived areas of Brazil, Kenya and India.
Here children are in charge of their learning and not yielding to instructors. They are learning from their peers, and the new knowledge has paid off quickly. For the girls in a slum in Nairobi, the key to learning is to avoid an HIV infection. For the Brazilian teenager, it is about transferring the entrepreneurial talent developed in drug dealing and computer technology skills picked up in prison.
Digital technologies can boost education mainly because they enable peer-to-peer learning, Leadbeater said. "Education plus technology equals hope."
In order to provide effective education on a large scale, he called for a transformation of schools into systems that are "high in structure" but at the same time "high in empathy". He called this new learning culture "intimacy at scale".
From Child-Driven Learning to Empowering Teachers
A radical example of new learning in schools was presented by Sugata Mitra, Professor of Educational Technology at the University of Newcastle in England. He advocates "child-driven education" in which 6-12 year olds teach themselves to use computers and study a variety of topics without any formal training or direct inputs from a teacher. Professor Mitra, who was born in India, has tested this method in various parts of the world and argues that it accelerates learning by using the power of peer-to-peer collaboration with the natural curiosity of children.
At OEB, the professor said, "The regular education system has to accept two things. This kind of learner-centered education is actually education and can be certified. Second, the establishment has to understand that formal traditional education is probably reaching its breaking point. Maybe it is already beginning to break. And therefore we need to move quickly."
Corrado Petrucco, Professor of Educational Technology at the University of Padua, Italy, presented a fairly simple but effective idea for collaborative learning at school. In several projects in Trento, children of primary and secondary level, together with their teachers, created Wikipedia pages about historical places in their region. They interviewed experts and elders, researched historical documents and created photo galleries.
"Not only did the pupils learn a lot about local history and about the community they live in. They also gained insights into how Wikipedia pages can be created by amateurs and how important it is to verify the information you find there."
Jenny Lane, Senior Lecturer at Edith Cowan University, Perth, Australia, highlighted "challenge-based learning" in her OEB presentation "Preparing Tomorrow's Teachers Today". Lane integrates ICTs in award-winning post-graduate teacher training courses. Rather than working along instructional lines, students investigate problems, discover solutions collaboratively and present their materials using digital technologies.
"The main challenge is fear – both on the part of the academics who did not grow up with digital technologies and on the part of the students who might have used social networking for recreational purposes but don't have an insight how to use them for teaching and learning," she said in an OEB podcast interview.
"It is all about power and control. Some teachers and academics have to relinquish their power which is quite scary for them."
This problem, it seems, is one of the main barriers for establishing new learning cultures around the world.