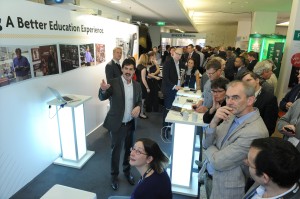 Seldom do you find over 2,000 e-learning practitioners from over 100 countries gathered at one place.  The annual ONLINE EDUCA BERLIN conference and exhibition is the largest global meeting of e-learning experts from the corporate, education and public service sectors. Sign up to advertise or exhibit your products or services in this dynamic setting.
There is still time for you to book a stand at ONLINE EDUCA BERLIN 2012.  Bear in mind that last year, 2,154 people filed through the doors and were treated to a cornucopia of presentations from over 360 speakers from 43 countries.  The annual exhibition forms a lively backdrop to the conference, so this is your chance to showcase your new products and services to the e-learning professionals who can make a difference to your bottom line.
The chance to exhibit a company's offerings to an international market is what draws many exhibitors.  "Our experience as an exhibitor at ONLINE EDUCA BERLIN 2011 was a memorable one," says Shatha Makki, the Female Section Vice Manager at Saudi Arabia's National Center for eLearning and Distance Learning (NCeL).  An initiative of the country's Ministry of Higher Education, the NCeL has grown from strength to strength in the six years since it was established to improve the quality of education in the country of 28 million. Pleased with the outcome and the ease with which her organisation was able to be in the spotlight, Makki adds, "We are looking forward to participating in ONLINE EDUCA BERLIN again."
Last year, 89 exhibitors from 29 countries wowed the conference participants with a range of products and services on display.  Pre-release software for study, plagiarism detection programs, open source material, classroom hardware and technology and tools for workplace learning are just a few examples of the colourful wares exhibited at the last exhibition.  Universities and other organisations with a stake in the e-learning sector were also on site, speaking to old and prospective clients and customers and imbibing the excitement of the conference and exhibition.  To sign up to sponsor, advertise or exhibit at ONLINE EDUCA BERLIN 2012, please click here or contact marketing@online-educa.com.