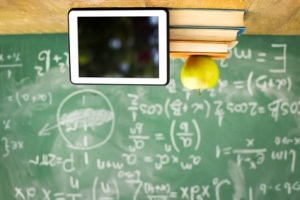 If you're looking for flipped learning methods to help engage students both in and out of the classroom, and free up time to make lessons more practical and collaborative, then you've come to the right place. We've gathered practical advice from educators who have tried and tested flipped classroom approaches for various educational settings.
Use lesson time to create and share digital content
Dr Pierre Mora, a marketing professor at France's KEDGE Business School, wanted to move beyond regular lectures and passive PowerPoint presentations to ensure his students could benefit from informal exchanges and gain experience as close to real life as possible. With his flipped classroom approach he has achieved just that.
Dr Mora's method requires students to turn their critical analysis of a relevant marketing topic into a visual, digitised representation. Dr Mora says, "The innovation comes from the idea that we transform the text into a more visual format where each student summarises their feelings and ideas in digital graphics. Then in sub-groups, around a digital table, students share their visuals in whatever format they have chosen."
The 'digital table' is a table connected to a computer where a small group of people can sit and display digital content, then discuss opinions and share experiences. The digital component allows for the data to be easily duplicated and amended, as well as broadcast on a large wall of the classroom to be shown to the rest of the class.
"It's quick and efficient, like you would do when showing someone content on a smartphone but in a collaborative way. Thanks to the digital table students are not learning in a passive way, with an instructor giving a classic tutorial, they are very active. The learning comes from the sharing activity, which has resulted in a better understanding and memorisation of concepts."
Use polls and quizzes to enliven lectures
The large lecture format is still very common in many universities but, as Maurice Matiz, executive director of Columbia University's (New York) Columbia Center for New Media Teaching and Learning, told Campus Technology, "Sitting in one of these 180-student classrooms is a very passive situation. We've found that students aren't really learning very much."
Therefore, the university has been developing techniques to address this issue. Matiz gave the example of biochemistry professor Brent Stockwell, who creates weekly slide presentations using PowerPoint, and combines them with audio recorded using ScreenFlow to simulate a presentation. The finished product is a video that is uploaded to YouTube and embedded into the the syllabus section of the learning management system (LMS) for students to easily access.
"The students really liked the videos and asked for even more. I didn't expect them to be so popular," Stockwell told EnhancED.
What's unique about Stockwell's approach is what lies behind the videos: a link to a short quiz which counts towards students' grades. This ensures the students watch the videos and are therefore prepared for the lecture.
For in class engagement and participation he uses a polling service called Socrative that can be used on students' mobile devices. Students are asked a series of questions and the anonymous results appear on a screen in front of the class. The anonymity of the results allows students to participate without feeling uncomfortable around a large group of peers.
Stockwell also has time left in his lectures to break up the class into groups for further discussion and problem solving.
Replace homework with videos
Realising her students were masters in memorising questions for exams but struggled to apply the principles, for the past four years, Estie Lubbe, a lecturer in accounting at North West University, South Africa, has been taking the flipped approach.
Not only was it clear that accounting is a subject better suited to practical lessons where knowledge should be applied, but students were rarely completing homework and the learning experience was not taking place when she explained questions and performed calculations.
Her flipped solution involves creating videos for students to watch before class, whereby all the theory is explained and questions with examples are given. Therefore all classroom teaching is conducted in a practical manner and there is no need to give out homework.
Lubbe explains: "In lecturer time, I provide students with a series of questions. They must analyse and give feedback on one question before they move onto the next. This enables students to learn from their mistakes and explain difficult concepts to each other. Lecture time is divided into the first half being dedicated to easy questions and then later more difficult questions. This tests students on their level of knowledge and in applying what was learned."
Lubbe says she finds creating video content a "fun and innovative learning experience," and experiments with Prezi, Smart Podium, Explain Everything and document cameras.
The approach has led to students gaining a better understanding of what is expected of them and how to apply the knowledge. Videos are also being utilised for tests and examination preparation, and overall the change in lesson format has made the students more positive about accounting.
If you have experiences to share or want to hear more about the ups and downs of the flipped classroom from Dr Pierre Mora, Estie Lubbe and other expert speakers and educators, join the discussion at OEB 2015.