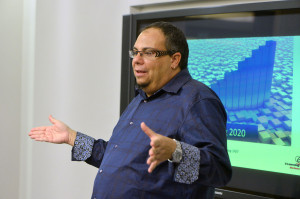 Are smartphones the future of e-learning? Do MOOCs live up their promise?  Should teachers upload YouTube videos longer than six minutes? If you answered 'no' to all of these questions, perhaps you're already acquainted with the writing of e-learning industry expert Craig Weiss.
Ranked #2 in a list of 'top movers and shakers in e-learning,' with more than 13 years' experience in the business, Weiss has the authority to back up his claims. As the CEO of E-Learning 24/7, a consulting firm, he has been offering vendors and consumers fresh industry analysis on a weekly basis since 2010.
Weiss accurately predicted that tablets – not smartphones – would take off as portable learning devices. He also predicted that Learning Management Systems would rely entirely on the cloud.
Now he believes apps, kinetic technology and augmented reality (like Oculus Rift, prototyped by OEB speaker Donald Clark last year at OEB and then at re:publica earlier this year) will be the future e-learning technologies to watch.
As for MOOCs, Weiss believes they'll need to add plenty more gamifications and other interactive modules if they want to hold the attention of their geographically-dispersed students.
"For whatever reason, academia has this mentality that online learning should be serious and cannot be fun and engaging. Gamification, which is ideally suited for online learning, is nearly non-existent. No interactivity in anything? Hello, good luck with that," Weiss said when giving us a taste of what he'll be discussing at this year's conference.
At ONLINE EDUCA BERLIN 2013, Weiss warned against creating 'boring content,' calling it the biggest threat to online learning's success. He also told a packed room that personalised content – including Avatars, personalised YouTube channels, customised widgets and greater diversity of content – would soon be coming to more learning management systems.
"Academia just doesn't get it when it comes to online learning. They use synchronous based learning – which is basically taking a class and sticking it online, having a syllabus tied to that course among other items. This form of learning i.e., classroom learning, has been the same for hundreds of years. From attending ONLINE EDUCA BERLIN last year I realised how learning organisations and institutions can learn from each other by coming together and how much need there is for this," Weiss says.
For OEB 2014 Weiss says he wants to further spark discussion on why some institutions get it so wrong and if they even care. In addition, he'll be 'breaking the e-learning code', as well as revealing which digital tools you can use right now, without busting your budget, to enable students to learn more than ever before in a fun and exciting way.
To see Craig Weiss live, and find out more fresh insights on the latest e-learning trends, register here for ONLINE EDUCA BERLIN 2014!