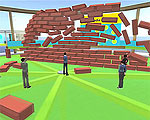 Game-based learning and virtual worlds were hot topics at OEB 2010. Rooms were packed with conference visitors. It was standing room only. The programme section covered 3D virtual world simulations at multinational businesses like IBM and Volvo and virtual police force training in Germany. There were simulations for students of law, economics, literary history and even wine management as well as serious games for secondary schools or for the disadvantaged.
"Games? Should we be doing that at work?" asked Euan Mackenzie, CEO of the United Kingdom firm 3MRT. The answer was a definite yes, "because games can increase your profit".
IBM showed how this works. The company now uses a new immersive 3D virtual social world to train 140,000 emerging leaders worldwide, without incurring travel expenses. Participants experience social challenges, whether as the female leader of an all-male team, a gay consultant in a global management job or a wheelchair-bound employee seeking a position as a sales rep.
Volvo presented their simulation of a car manufacturing plant to train production supervisors in "lean manufacturing". Rudi van Sande from the Volvo Lean Learning Academy, Belgium, explained how the simulation of eight work stations enables participants to standardise, systematise and sustain the work process.
Much attention was paid to Uwe Seidel's presentation on virtual police force training in Southern Germany. In this project which has been going on for several years, 20,000 police officers have been trained as "avatars" in a sophisticated 3D environment. They practice co-ordinated actions by ground-based forces and police helicopters.
"Our virtual scenarios now provide 150 square kilometres of freely walkable or drivable terrain. We can use night cameras, realistic radio communications and many other authentic features," Seidel explained.
"This virtual solution enables instruction that would not otherwise be possible. Helicopter training is costly and noisy, especially when you are training to fly in a city at night."
Simulations for Students of Law, Oil Trade and Wine Management
Game-based learning and virtual worlds are also becoming very popular in the academic sector.
At OEB, Sarah Frame from the University of East London highlighted immersive role playing in legal education. Law students directly apply their learning to resolving real life problems using scenario-based interaction.
The IE Business School in Madrid, Spain, presented "Making Money on Oil", an interactive simulator allowing undergraduates as well as postgraduate students to adopt the role of futures traders in the petroleum market. Up to fifteen groups of students compete to maximise their investment and top the leader board.
"This game has been developed exclusively by our Business School," project manager Mathew James Constantine explained at OEB. "Over 2,500 participants have taken part, and they were very enthusiastic about it."
The Bordeaux Management School (BEM) in France found out that students in their international Wine MBA programme prefer the play their business game offline rather than online. The Wine MBA is a part-time course combining online learning face-to-face sessions in Bordeaux, Hong Kong, Adelaide, London and Davos. In the business game known as "The French Paradox", four student teams are asked to run four wineries as efficiently as possible.
"Our experiments showed that those students playing the game in the same room and with their professor present felt more comfortable than the groups of students dispersed in various parts of the world. Proximity supports their concentration and social skills," Professor Pierre Mora explained at OEB.
"Global Conflicts Palestine" and "Zoo Tycoon" in Formal Education
Formal educationalists were sceptical for years about the use of digital games as pedagogical instruments, partly, thought Jonathan Cops of the Leuven Education College in Belgium, because of a lack of validated research.
He presented his own research on the game "Global Conflicts: Palestine" about the Israeli-Palestinian conflict, and how secondary teachers produce cognition and affective learning outcomes with the appropriate briefing and de-briefing for "learner readiness".
Premiere of ENGAGE Quality Awards
The ENGAGE Quality team awarded their Best Practice Award to an Austrian secondary school, BG/BRG Zell am See, for their innovative inclusion of the business simulation "Zoo Tycoon 2" in English, German, biology and arts lessons.
Two other ENGAGE Quality Awards were announced. The Best Learning Game was "EnerCities", a game about sustainability and modern energy supplies developed in the Netherlands, and the Best Inclusion Game was for the British "Choices and Voices", which encourages young people to take a range of moral decisions.
ENGAGE is the European Network for Growing Activity in Game-based learning in Education.
Alternate Reality Games – and Others
Other creative and educational games featured at OEB 2010 included gaming on mobile phones, health gaming for the disadvantaged and games using virtual patients in medical education.
Can social games change behaviour? This was the question Natasha Boskic from the University of British Columbia, Canada, has been trying to answer.
She analysed the effects of the Alternate Reality Game "Evoke" on six participants from New Zealand, Serbia, Uganda and Rwanda. This ARG game was published in the spring of 2010 for ten weeks in the social media community Ning. Each week a quest and a mission were set for "agents" to complete. One mission announced: "Tokyo is without rice. What can we do?".
Boskic concluded that AR games play a part in enabling personal and social development but that more research is needed.
Links
More information on the ENGAGE Quality Award Winners can be found here:
www.engagelearning.eu/?p=1043