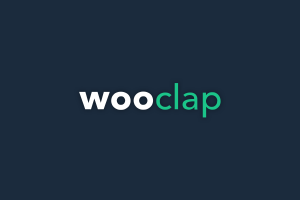 The contributions technology can make to the field of education seem endless. It is shown by its constantly increasing use to revolutionise teaching and learning processes all over the world. Not only does it offer students the chance to learn at their own pace outside the classroom, through e-learning platforms, blended learning, and MOOCs, but the introduction of audience response systems also turns them into active contributors to their education.
These classroom response systems emphasise and stimulate interaction and engagement in the classroom. Wooclap, an online platform developed by a young Belgian start-up of the same name, has been pushing the educational market to adopt these new technological developments. In less than two years, this online solution has become a key ally of universities and schools around the globe, being present in institutions in more than 100 countries.
It is time to move students from their education's background scenery to the centre of the stage, because with the removal of classroom participation barriers through online voting systems, learners finally have the opportunity to become central actors in their education. Student or teacher, and regardless of one's digital competence, can stimulate interaction with the help of fast and simple digital solutions.
Find out more about the EdTech solution: Web : www.wooclap.com –  https://twitter.com/wooclap – facebook.com/wooclap