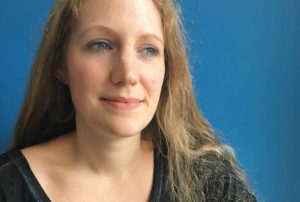 At Babbel we do not translate our courses, but we adapt them to ensure successful learning for everyone, no matter what native language our users have. Taking into account the grammatical and structural characteristics of a language, we create different courses for each language combination. Furthermore we put our focus on diversity when it comes to select the course contents and the pictures, in order to bring together the different learner types.
In addition to the OEB conference program in 2017, Babbel for Business hosted a Breakout Breakfast in their headquarters situated near Alexanderplatz. The attendees enjoyed a healthy breakfast while gaining insights into Babbel's content creation processes. In a short presentation Maren Pauli demonstrated why it is important to watch through the user's eyes and how diversity matters at Babbel.
If you missed the event, but want to know more about Babbel for Business, click here for further information.
To everyone who was there and contributed to the lively discussion about human diversity and its crucial role in language learning we want to say: thank you!
( links: https://www.youtube.com/watch?v=-uTX-sXufbA&feature=youtu.be & https://business.babbel.com/ )