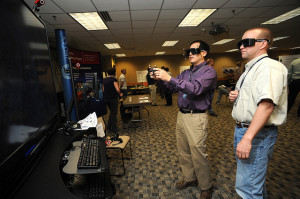 Once regarded as simply platforms for next level online socialising, where users immerse themselves in a 3D life outside of reality, virtual worlds are now being utilised to benefit people IRL (in real life). Combining aspects of both real-world classrooms and online distance learning into a single platform, virtual worlds are emerging as a meeting place for the most prestigious universities, non-profits and academic institutions in the world. 
By March 2007, it was estimated that over 200 universities or academic institutions were involved in the virtual world (VW) Second Life; allowing students to create a personal 3D avatar and function in real time for shared experiences and exchange of ideas and information. As well as offering distance learning opportunities by way of virtual lectures, in Singapore, where the Ministry of Education is investing heavily in tech endeavours for schools, the immersive virtual environments are proving to help students learn by exploring without worrying about the consequences of failure. The VW enables students to communicate more openly, by way of an avatar, and not be afraid to make mistakes.
Language schools, in particular, are now offering a complete learning environment through a VW, for example Languagelab.com and Avatar Languages. They can draw on the social and immersive qualities of the world to practice and improve language skills, and also to take classes on virtual field trips and city tours.
Self-confessed 'card-carrying futurist' Chris Bishop, from US-based Future Workplace, spoke at OEB 13 about was a part of IBM's Virtual Universe Community.
"We used to use it for on-boarding [employees], we used it for leadership development…" and Chris believes that virtual worlds are sure to be evolving over the next 20 years.
As was demonstrated last year at ONLINE EDUCA BERLIN, and again at the OEB session at re:publica in May, the Oculus Rift has made a real splash in the VW scene and as Donald Clark believes, it may just revolutionise the way we learn and teach. In an interview with VICE Magazine Germany after the OEB session, Donald Clark said that episodic learning can help people to better retain knowledge, which is what the Oculus offers.
"If we take the example of physics, one can actually do real experiments with physics in another world… Why does that matter, that experiential learning? Well first of all it allows you to actually experience that sense of physics."
Many e-learning experts, including Donald Clark, expect to see much more of this kind of technology entering classrooms and transporting students on different learning journeys.
Most VW educational projects, however, envisage a blended learning approach. The time spent in a 3D virtual environment is combined with 2D virtual learning tools (e.g. Moodle) – which are less about becoming immersed in an online world and instead focus on networking in a collaborative e-learning community – as well as time spent in physical classrooms.
Jeanne Meister, Founding Partner of Future Workplace, will be speaking at OEB 14 and conducting a day-long workshop, and you can watch an interview with her Future Workplace colleague Chris Bishop at OEB 13 here.
Donald Clark will also be chairing a session at eLearning Africa next week, speaking in another session on MOOCs and also demonstrating the Oculus Rift for participants at the conference.