This year, VIDEO EDUCA ran its first Youth Camera Team project, inviting a group of eight students from a local college to plan, film and edit a short video which reflected their impressions of the conference, entirely from their own perspective.
Filmmaker Rebekah Tolley, a UK based Creative Producer/Director, led the team across three days, during which time the students brainstormed ideas of where, what and how to shoot their material. To help them in this endeavour, they were each given Wi-Fi enabled action cameras. With filming complete, Rebekah created a rough assembly edit, from which the students were able to make their final creative and editorial decisions and complete a two-minute edit by the end of day three. During this final session, conference participants were given the chance to drop in on the post production process and ultimately witness the live completion of the final edit.
Rebekah said "We encountered a few technical issues up front, but the students did a fantastic job of focusing themselves on the task in hand, producing a piece of video, which I think not only reflected their impressions of OEB 2014, but also their undoubted enjoyment of the process, including getting to work with a new and terrifically interesting piece of camera technology. I applaud ICWE for making the commitment to invest in this worthwhile project and also donating the equipment, which will now afford these students the opportunity to explore such exciting technology further, not only in their personal time, but also within the context of their own media-based studies."
 The final video: the Youth Camera Team's view of OEB 2014

Now in its third year, Video EDUCA has cemented its position as the world's leading international event for video in learning.
 The programme for Video EDUCA 2014 aimed at meeting a number of needs within the fast-moving world of video in learning. The sessions and workshops continued their unique record of bringing educators together with world-class film and TV professionals to work on improving the quality of video learning, and of showing the latest in both theory and practice in video learning and video pedagogy. The aim of the track is to help participants improve their practical skills in video, whilst creating a supportive forum for exchanging ideas and solving problems for everyone working in video learning.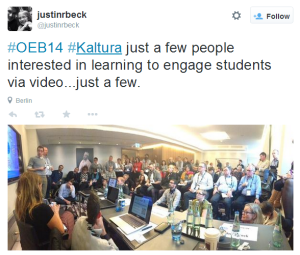 Award winning Berlin filmmaker, Erik Schmitt, began with his intensive production workshops. These practical professional workshops were supplemented this year with Sonia Hetzner's sessions on Low Budget Video Production. The high turn-out reflected the demand for better quality and better value video production. The two presentation sessions on Video Pedagogy and Learner Engagement were also very popular and featured a host of great examples and exciting new ideas.
Addressing a very pressing need for many educators was the performance workshops, in which actress and director Sarah Finch helped two groups of participants develop on-camera presenting skills. In the Masterclass and Video Doctor, delegates had plenty of opportunity to interact with TV industry professionals.