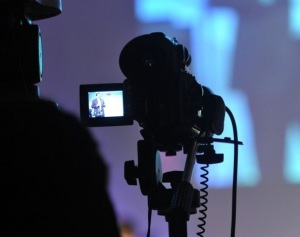 At ONLINE EDUCA BERLIN in 2011, renowned e-learning expert Jay Cross declared that "video is the new language of learning". Video has since become one of the most ubiquitous and effective online learning tools. But, simply standing in front of a camera and giving a lesson is not enough; research shows that learners using video find boring presenters the biggest turn-off. So, how can we address this challenge?
This year's VIDEO EDUCA sees the introduction of Performance Workshops; innovative sessions led by actor and director Sarah Finch, whose career highlights include performing with the Royal Shakespeare Company, the London West End and BBC TV, as well as directing stage productions and leading workshops throughout the world. VIDEO EDUCA Curator, Adam Salkeld, met up with Sarah to find out more about the art of teaching to camera.
VIDEO EDUCA is dedicated to helping learning professionals speak the 'language' more effectively. In the past 12 months studies by TechSmith and researchers from edX, MIT CSAIL and the University of Rochester, have highlighted the role presenter performance can have on learner engagement. The new Performance Workshops have been designed to help educators to improve how they appear on camera.
What are you aiming to do with the Workshops?
First we are going to break down any fear people have of being on screen. My job is to help participants make friends with the camera. Second we will learn some of the professional tricks and techniques that will improve performance almost instantly. These will be things like diction and delivery, working on pacing, as well as getting the right eye-line and posture.  Of course we will practice, discuss and work through all of these skills.
In your experience what are the biggest challenges people face when trying to improve their performance on camera?
Overall confidence is the biggest hurdle. If you are uneasy, the camera has a habit of magnifying that. Another issue is that people may be used to speaking to a lecture room of a hundred or so students. The camera is intimate, it is like speaking to one person – it's a conversation not a lecture. We will be working through a lot of strategies to overcome these and many other challenges.
Who would benefit from the Workshops?
Anyone who has to work with video in learning. It could be someone who has been asked to present on video themselves, or it could be someone who has to help others perform well on camera.
What can participants expect to be doing in the Workshops?
They will be very interactive sessions. Don't expect to come along for a quiet time watching Powerpoints – these are highly practical Workshops with lots of activity and I hope we will be having a lot of fun as well.
Have you ever encountered people who you can't help with their performance skills?
Well, I can't make everybody a movie star, but we all have the capacity to improve.  As with any discipline it's about learning the basics, then practice, practice, practice. The Workshops will give you the chance to do both in a lively and supportive environment.
VIDEO EDUCA Performance Workshops VID24 and VID36 will be held at 14:30 and 16:30 on Thursday December 4. They are free to all OEB 2014 participants.
 You can also find out more about the findings of the TechSmith research in Session VID 47