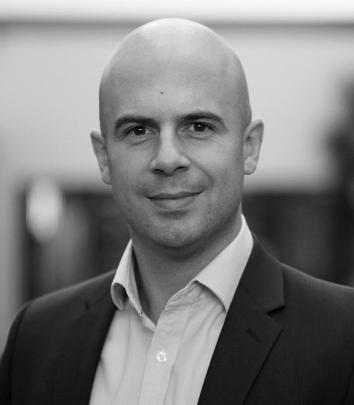 In a dynamic fast-paced world, a skilled workforce can be a key asset in achieving competitive advantage. WEKIT ECS is on a mission to develop and offer advanced Mixed Reality (XR) training solutions that provide economic and social benefits to a diverse range of training needs.


Building on many years of research and expertise, MirageXR is the flagship training and learning system of WEKIT ECS. Its purpose is to shift the paradigm on how industry providers train their workers in-house, and how learning technology providers deliver training. MirageXR is a holographic authoring and replaying tool pioneering the IEEE standard ARLEM for mixed reality training and an industry-validated learning approach. It enables anyone to develop, document, and share experience and knowledge using XR, delivering in situ authoring and re-enactment capabilities.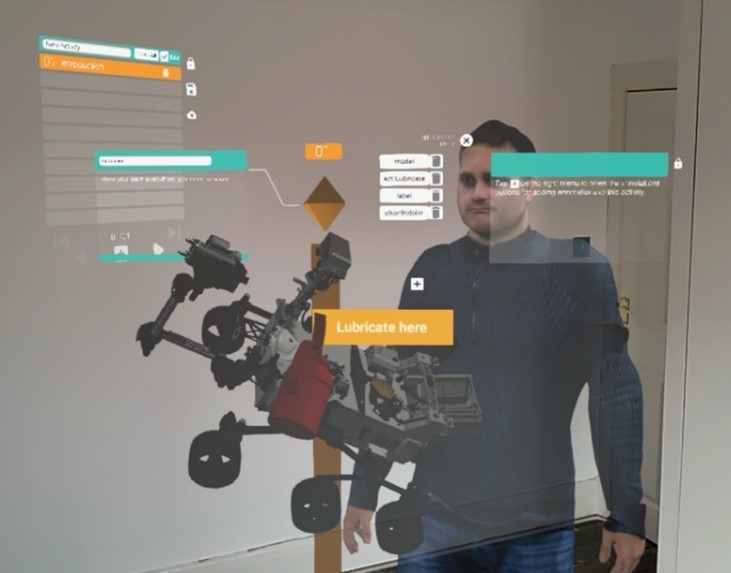 Figure 1. Mixed Reality capture of the authoring mode of MirageXR in action: a Mars rover with additional oil-can glyph and label, in the background a character model.

Industry providers can train their workers to enhance their workplace learning capabilities, improve productivity and retain expertise by making a better use of expert knowledge and learning data analysis directly related to work-training behaviour. MirageXR can be tailored to meet an enterprise's workforce strategy and specific training and business needs at optimal cost benefit.



GhostTrack is a premium feature of MirageXR allowing the recording of an instructor in action using HoloLens, then recreating a 4D holographic projection of him/her (the ghost). Learners can use this to revise training content in an immersive XR way even when the instructor is no longer present. GhostTracking optimizes the location-based learning of knowledge-intensive tasks directly from experts in their field to guide workforce effectively using. By implementing a custom-made holographic training solution, the enterprise can cut training costs, increase the efficiency of training procedures, help the workforce achieve and maintain autonomous self-improvement, and provide clear performance analytics in order to facilitate workplace innovation learning and capacity development.



Realms of possibilities evident for a wide range of sectors
Challenging environments where complex manufacturing systems are being introduced require a new approach to learning. MirageXR has been effective in procedures where there is a high cognitive requirement, such as during inspection or maintenance procedures, radiology, aeronautics, astronautics, and manufacturing. For instance, in the space sector, XR learning enables training of astronauts and engineers to perform complex tasks that require advanced technical skills and precision. In manufacturing, where learning how to operate complex machinery required lengthy preparation and a lot of theoretical knowledge, workers can now complete their tasks using real-time instructions via holographic projection.


Ground-breaking innovations open up new possibilities
The open architecture of the core MirageXR platform is an agile test bed for innovation. In-house world leading expertise at WEKIT ECS and a vibrant community of developers around MirageXR are the power engine behind early access to trending features. Building enterprise solutions on top of open standards fuels the growth of the XR training community for the industry and education institutions.
The commitment to ongoing product refinement creates potential for MirageXR to go into the area of workplace ergonomics and workforce wellbeing. The development of XR wearable technology and motion capture data can be used to build models or visualisations of physical performance. For instance, capturing physiological data can inform the design of efficient workplace layouts, enable mimicry of an expert's behaviour and actions, as well as assess focus, attention, or stress of the worker being trained.


An enriched academic learning experience
MirageXR has the potential to innovate the way XR learning technologies are used in the Higher Education sector to create and deliver an enriched experience for both the educator and the learner. The combination of open source state-of-the-art cross-platform application with innovative features such as GhostTrack and holographic AIs offers a standardized content creation model and a rich eco-system of authoring tools. The integration with the widely used learning management system Moodle opens up opportunities for scaling up of XR enabled course creation, integration and practice in education. The benefits of MirageXR will be evident for both the educators and the learners.

Getting involved
WEKIT ECS is open to work with research institution to augment traditional industry trainings into immersive XR experiences. The XR authoring capabilities MirageXR offers are scalable without the need of having in-house XR content editors. This open immense opportunities for cost-effective holographic training experiences, enabling universities to easily develop and deliver XR content that is closer to real life. WEKIT ECS has an ecosystem vision for its MirageXR solution to become a collaborative XR hub for universities, learning technology developers and industry partners looking to augment existing training programs or developing new bespoke training programs. MirageXR is available on HoloLens 1, HoloLens 2, and the latest Android and iOS devices, offering an all-in-one XR framework that is flexible and customisable.


Written for OEB21 by Endrit Kromidha of WEKIT ECS. Meet with their team at the exhibition of the event or connect at: https://wekit-ecs.com/.