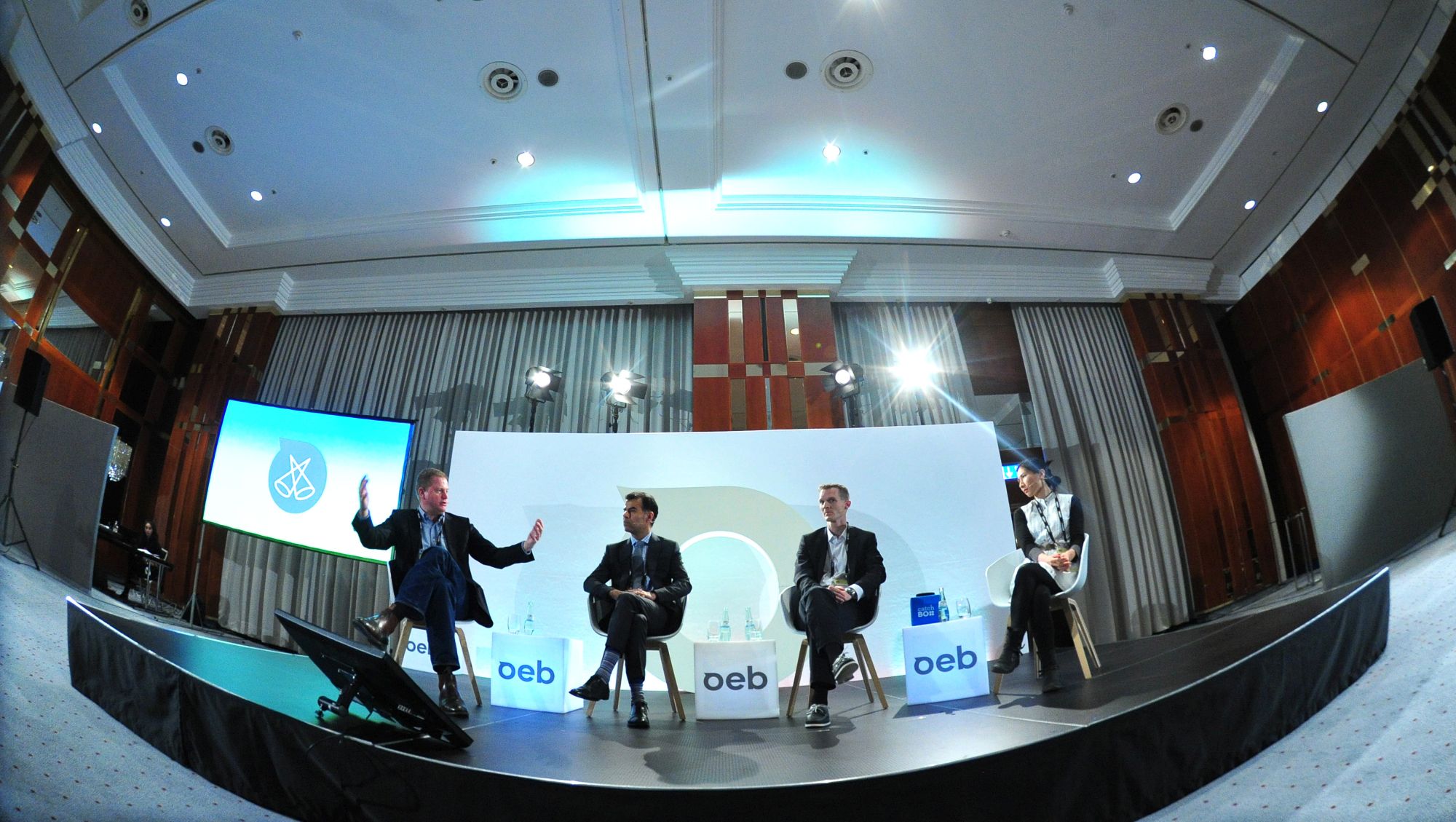 The OEB Spotlight Stage is back for 2015. It again features an inspiring programme of creative thinkers and innovators who will present their ideas in unique, interactive formats. Hear from entrepreneurs who have broken away from the traditional system to create new school models to meet the needs of today's learners. Find out which edtech trends are attracting investor attention. Come face to face with robots that are set to shape the future of education and more.
Thursday, December 3
Kicking off the rolling programme on Thursday is artificial intelligence pioneer Luc Steels from Vrije Universiteit Brussel Artificial Intelligence Laboratory, who will reveal what a "smarter" MOOC, created using AI, looks like. He will be followed by the mysterious Charlotte Webb, digital artist and Project Manager for Student Engagement (Digital) at the University of the Arts London. Charlotte will question the audience's perception of online authenticity and turn to art for clues about the possibilities and pitfalls of being "you" online.
After lunch, a panel of edtech investors will be ready to answer questions about what they are looking for in new e-learning ventures and the trends that are shaping one of the most important global growth markets.
"MOOCs have been growing in terms of reach and usage, but still lack a substantial monetisation," says Michael Hock, Managing Director at Holtzbrinck Digital. He will be joined by Dalia Das, Vice President Education at Bertelsmann SE & Co. KGaA, and Sandeep Aneja, the Founder and Managing Director of Kaizen Private Equity.
Gilly Salmon, Pro Vice-Chancellor (Education Innovation) at the University of Western Australia (UWA), will follow, discussing the UWA's "Futures Observatory". Her talk will focus on how to go beyond the adaptive approach and into much more radical future thinking and action.
Showing what's possible when robotics is used in education will be Pierre-Yves Oudeyer, Research Director at the French Institute for Research in Computer Science and Automation (Inria) and head of the Flowers Lab. His pioneering "Poppy" project – an open-source platform for the creation, use and sharing of interactive 3D printed robots – is being trailed in classrooms throughout France.
"I will give examples of how it is being used in schools ranging from the primary level to university, as well as in various educational contexts such as STEM and the arts. I will also discuss how the use of these educational technologies can
change the dynamics of interaction in classrooms and help foster the pleasure of learning," Oudeyer says.
How do students feel about this kind of technology? You can find out from the "millennials" themselves when a group of students take to the stage for the final Thursday session. Members of this demographic will give a first-person narrative of how they use technology in their daily lives and which edtech tools and methods they really find engaging.
Friday, December 4
First up Friday is a panel of inspiring educators and entrepreneurs who have created new school models designed to meet the demands of a modern, digital world.
"It didn't make sense to me that at home children are in the digital age, yet when they go to school, they are stuck in the past. They are being prepared for the past instead of for the future," says Maurice de Hond, who created the Steve JobsSchool model in 2014 – an educational concept that embraces the use of iPads, elevates teachers to "talent coaches", and emboldens students to choose their own six-week lesson plans. The successful model has since been adopted by 22 schools across the Netherlands.
He will be joined by David Cummins from the Hacker School, a non-profit private initiative in Germany that inspires young people to learn programming. The approach shows students how easy it is to escape being mere consumers of technology and empowers them by imparting the knowledge to create it.
In an article for OEB, Cummins said: "It does not make any sense to treat the use of computers as an extra discipline – not in a world where many children have already used computers in some way before they can read or write […] Let us stop teaching kids to use the technology in a separate class. Let us instead show them how to control and create with the objects around them."
Next up, Bryan Mathers from City and Guilds will take you on a journey of visual thinkery: you will take in the rolling green hills of education, the moral high ground of social business with a sideways glance at the industrial reality of vocational training. The journey will continue with Donald Clark from Plan B Learning, who will take you back in time, revisiting 25,000 years of learning theory in just 25 minutes.
Closing the programme, you'll be catapulted back to the future with a panel discussion and demonstrations from the world of robotics. Shake hands with new articulated robot-hand technology from Seed Robotics. See how Leka's interactive robot helps children with developmental disorders learn through play.  Hear from Giorgio Metta, the director of the iCub Facility department at the Istituto Italiano di Tecnologia (IIT), where he coordinates the development of the iCub robotic platform/project, a humanoid robot that's being used in more than twenty laboratories worldwide in theinvestigation of human cognition and artificial intelligence.
The rolling programme means there will always be something to see on the Spotlight Stage. And as the interactive sessions are set in a laid-back, creative atmosphere it makes the perfect place for you to pop in for a burst of left-field inspiration, entertainment and provocation!  Find out more here.