The backdrop to each ONLINE EDUCA BERLIN is a bustling exhibition where participants are given a taste of new developments to come in the technology and e-learning arena. At OEB 2011, 89 exhibitors from 29 countries presented an assortment of new products and services including software for managed learning environments; language learning applications; tools for corporate learning and development; e-learning trends in higher education and everything in between. The exhibition complemented the conference sessions by bringing to life the multimedia innovations that are defining modern-day education and training in all spheres of society.
By Prue Goredema

The multimedia classroom
Exploring the stands at the OEB exhibition, it was clear that the emerging new learning cultures are characterised by streamlined pedagogical approaches which incorporate multimedia systems into learning routines. One such innovation is the Moticam, a camera built for use with digital microscopes in educational, industrial and clinical settings. Demonstrating how microscope slides are filmed in real time at high resolutions and beamed onto a screen, Mario Kuca of Motic said, "An HDMI or USB connection between the microscope and a computer facilitates swift documentation of information, though the camera can also be used independently of the computer." The user need not keep peering down the lens, and the material can be saved for later viewing. Biology lessons will surely never be the same as this interactive tool allows the teacher to follow each student's progress without even getting out of their seat, while images can also be instantly projected onto a single screen or whiteboard for class tasks. Kuca added, "The Moticams are compatible with Windows XP and higher and with Apples OSX. Extra drivers are available for Linux users."
E-learning in higher education
Pre-release prototypes were also on show at OEB. Henrik Hansson of the Department of Computer and Systems Sciences at Stockholm University demonstrated SciPro, a software program that matches postgraduate students with potential supervisors and then monitors their progress as the research and dissertation take shape. This open source innovation is not yet available for purchase, but Hansson said, "Our team is still putting the finishing touches to SciPro, but we have already started using it at Stockholm University, and students and supervisors alike have welcomed it enthusiastically. We have matched over 350 students with 70 supervisors." Students need not waste time coming up with unsuitable research proposals. "We not only have a database of topics that the various university departments are actively working on," says Hansson. "We also work closely with industry to ensure that our research output is driven by the real needs of businesses." This resonates with the arguments put forward by Lieve Van den Brande, a Principal Administrator at the Directorate-General for Education and Culture of the European Commission. In her OEB 2011 presentation "EU Policy for ICT in Education: A New Initiative on Creative Classrooms / Creative Learning Environments," she argued that the goals of education and those of industry have not been in sync, and the incongruence must be addressed if Europe is to address its pressing skills shortage. The SciPro approach is perhaps one way to meet the challenge. The programme comes with multiple features guiding students through the thesis-writing process, reducing drop-out rates, saving time and even reducing plagiarism.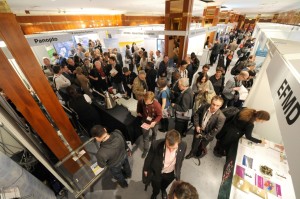 Plagiarism has long plagued academia; however, plagiarism detection software has become more sophisticated in the Internet age, and several established players in this field were at the OEB 2011 exhibition. Submission of assignments to Turnitin is becoming routine in many college courses because the software checks for originality and highlights content that matches material appearing online or in academic databases. But policing students is not the sole purpose of this software. Many students who plagiarise have simply not developed the skills to cite sources properly, and thus Turnitin's WriteCheck takes a learner-centred approach by helping students to become more knowledgeable and accountable as they document their sources. Whilst Turnitin uses a login system, competitor Urkund, also present at OEB, uses email, the web and Learning Management Systems as a platform for interaction. Such software reduces the instructor's work load whilst fostering academic integrity in students.
The range of learning management systems available today is impressive.  Saudi Arabia's National Center for E-Learning and Distance Learning (NCeL) had a memorably colourful booth at OEB where participants learnt more about the country's education initiatives while sipping Arabica coffee, sampling dates and having their names etched in Arabic script. Shatha Makki, Female Section Vice-Manager at NCeL explained that the teaming of a learning management system with a digital library is just one of the ways in which Saudi Arabia's Ministry of Higher Education is using technology to transform education and society at large. Before a learning management system is rolled out, it must be tailor-made for its market since educational expectations differ among regions. The TVET portal (Technical and Vocational Education and Training) is a learning management system that has cornered the Middle Eastern market. Its e-learning platform offers courses in Arabic and English, and the forum allows for information exchange with experts from the Arab world.  Belgium-based Claroline, on the other hand, is a free GPL Open Source e-learning platform open to all. It is available in over thirty languages for Linux, Mac OS and Windows and is supported by most browsers. Michel Damay, Community Manager at Claroline, demonstrated the swift process of creating an account, and he showed onlookers the ease with which teachers can upload course materials which students then access. The interactive platform allows for messaging, crafting of Wikis and forum participation. With users in over 100 countries, Claroline is also used extensively by companies for staff learning and development.
Corporate training
On-going staff development is a key concern for OEB participants, particularly those who are drawn to the Business EDUCA sessions. Strategies to leverage talent to improve business performance were discussed in-depth in the Business EDUCA sessions, and participants were able to start devising their own game plans after touring the exhibition stands with a corporate bent. One such stall was that of Docebo, a company that specialises in cloud e-learning for multiple industries: from retail, services, and financial institutions to government and defence industries. OEB participants visiting this stand learnt of how Docebo creates tailor-made e-learning software for managing training activity in various contexts.
Adapting material to a specific client's needs is an approach also taken by Sajan, a company offering multimedia translation and content localisation services. Regardless of a company's product or service, they argued, it is essential that they meet market needs in order to stay competitive. This way of thinking was echoed in the Business EDUCA sessions. Sann René Glaza of Toyota Motor Europe argued that while English is understood widely, training is more effective when people learn in their own language, and thus localisation must be embraced for maximum business agility.
These highlights do not do justice to the 89 exhibitions that gilded ONLINE EDUCA BERLIN 2011. Education, corporate and public service professionals in attendance walked away with sound solutions to their training needs; ideas for further exploration and many memories of a wholesome e-learning experience.