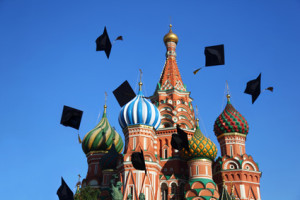 Back in the USSR, "education for all" was the order of the day.  How have things changed, and how is today's Russia embracing innovations in e-learning? EduTech Russia 2012, which will take place on October 8th and 9th, will be an opportunity for the country to take stock.
With a total area of over 17 million square kilometres and a population of around 142 million, the sheer size and heterogeneity of Russia mean that getting new teaching technology to all corners of the country is a mammoth task. The second annual EduTech Russia will be an opportunity for stakeholders from all corners of the country to catch up on the technologies that are redefining education, the conference organisers say.  Russia has different regional educational systems, and in many cases, the innovative technologies that will be successful are those which make it possible to have remote access to educational resources. Webinars, video-conferencing, hardware and software for mobile learning, cloud technologies, education in virtual reality and 3D technologies are becoming more and more popular.
The thirst for these technologies is driven by other factors too. A spokesperson for EduTech says, "After the upheavals to the country's political and economic system, the next revolution was in new technology, and this quickly separated the old guard and those young people who are at the forefront of embracing ICT in all spheres of their lives, education included." Those who studied and received their qualifications in the USSR days are having to rethink their qualifications and whether these are sufficient for them to be successful in today's changed environment. Russia has traditionally had several cities serving as centres of educational and scientific endeavour, chief amongst them Moscow, St Petersburg and Novosibirsk.  Key trends in education innovation and strategies for the implementation of technology in education and corporate learning have long been determined at these centres of learning. Things are shifting now.  The spokesperson explains that Russia is now moving towards providing access to quality education in all regions of the country. "Furthermore, the highly competitive job market today means that young people are seeking multiple specialisations, and they are ready to adopt whatever learning innovations they see as being worthwhile," the spokesperson adds.
Striving for further education is also a legacy from the past.  As recently as 2005, UNESCO reported that more than half of Russia's adults have a tertiary education – more than twice the average for other countries looked at in a study conducted by the Organisation for Economic Co-Operation and Development.  As vast and varied as it is, the Russian educational market has developed steadily over the past two decades, but the need for quality educational services is ever present.  It's a country where education is a priority for most people, and there's a thirst for solutions to the distance issue, a need for new technologies and an eagerness to adopt new teaching techniques at all levels of the educational system.
The EduTech conference and exhibition will give vendors an opportunity to showcase their wares to this varied market.  An initiative of the Russian Ministry of Education, EduTech Russia is a massive undertaking, with five separate events held under one roof.  Eighty per cent of those who attended last year were from Russia, and the rest were mostly from the Commonwealth of Independent States (CIS).   The conference and exhibition will cover secondary, tertiary, workplace and lifelong learning.  The conference partners are mostly organisations working on the development and implementation of innovative technologies in all sectors of the Russian economy, including education.  These include the Russian Corporation of Nanotechnologies (RUSNANO), specifically its Fund for Infrastructure and Educational Programmes, the Agency for Strategic Initiatives and the Skolkovo Innovation Centre.
Read more about EduTech Russia 2012 here.