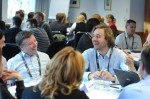 On Wednesday 28th November, OEB will be hosting a series of tailor-made pre-conference workshops that will provide participants with practical knowledge and insight from leading international experts, as well as the chance to network with like-minded professionals. A range of both half- and full-day workshops on are on offer, covering a wide variety of specialised fields in depth. These will provide participants with a unique opportunity to get to grips with new ideas in an interactive and activity-based environment, enhance their knowledge in specialised fields, and get advice on best practice from leading industry figures.
Here's just a small selection of the many pre-conference workshops and seminars on offer at OEB:
The overall theme of OEB 2012 is "Reaching Beyond Tomorrow", and this is typified by the workshop Learning Design in the Open: Rethinking Our Courses for Tomorrow's Learners. This session will allow you to examine a learning design project (either one that you have already created or something new that you wish to create) through a series of activities that will be undertaken both individually and in small groups. You will learn how to create a variety of teaching activities as well as when to use appropriate open educational resources to create the ideal course.
Moodle Seminar and Workshop: Moodle in Practice and New Developments serves as an introduction to Moodle, the online learning management system. It's designed for people who have not yet seen it in action or who want to improve the efficiency of virtual learning in their organisation, and also to help those who have some experience with Moodle to learn how to make the most of it.  You will get an overview of strategies for working with Moodle, getting others in your organisation to use it, and how to integrate Moodle into your pre-existing ICT environment. 
Examining Open Educational Resources in Digital Literacy and Creativity for University Teachers' Professional Practice will offer participants the opportunity to develop their skills and knowledge of Open Education Resources (OERs) in a lively and interactive way. This session is ideal for higher education professionals who wish to critically consider the ways in which OERs can be used to support digital literacy and creativity amongst university teaching staff. 
Augmented Virtuality Supports Sharing of Corporate Experiences. Corporate and workplace training in the 21st century needs to evolve and integrate new training concepts that can cope with a rapidly changing and demanding knowledge and information society, and this workshop will provide an insight into ways to design and execute learning scenarios to do just this. The key things that will be touched upon are: how to augment the virtual world and integrate simulations with real-world events and experience, how to personalise learning and provide individualised support, and how to integrate this into an organisation.
For more information on all of the pre-conference workshops, please click here.