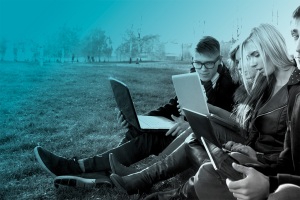 Throughout the past decade, there has been a real shift from the use of desktop computers to embracing approaches such as BYOD (Bring Your Own Device) and the integration of mobile apps into learning deliverance. However, at Blackboard's Teaching and Learning Conference in May this year, we saw that just having access to mobile technology does not solely make it successful. Institutions still face the challenge of how to effectively use mobile to maximise student success and outcomes, and should carefully consider their goals when mapping out mobile strategies.
A survey in the US found that 80 per cent of its college and university respondents either used or were planning to use mobile apps for teaching. An article by Dell 'College Campuses Catching Up with Mobile Trends' discussed the rate at which universities have been capitalising on the mobile trend when compared to other industries. From simple apps that provide a snapshot of campus information to fuller options that include access to coursework on an enterprise platform, the 'unplugged' student is connecting in new ways.
Many academics question the validity of using mobile, and what it can do for them and their students. What kind of return on investment can they expect from such technology? The possibilities of using mobile technology are limitless, but the benefits of doing so can be split into two distinct categories: Recruitment & Retention and Student Engagement.
Recruitment & Retention
Recruitment is a critical aspect for universities; the goal for colleges is to showcase the differentiation and value that they offer. If they create a personalised mobile app, prospective students will be able to see that the university offers them easy access to class schedules, news, grades, library resources, sports information and more. It will make the experience of choosing that particular university transparent, interactive and enjoyable. Taking the use of personalised mobile technology even further, students can buy books via their smartphones or tablet app, and prospects can even apply to attend the university.
In the UK, many universities are seeing the benefits of using mobile in attracting new students. In the US, there is proof that mobile does help the recruitment process. Loyola Marymount University built a mobile app that it put at the centre of its new outreach campaign. Within one year, its student applications had increased by more than 10 per cent, and the reach of its brand was extended into 39 countries.
Student Engagement
As a university delves deeper into the many ways of improving student engagement, there are a myriad of possibilities. Students are now able to customise classroom apps so that they can organise tasks according to what is most important to them. Two first-year students from NUI Galway University went a step further and started creating their own campus app in their spare time, which they presented at the Blackboard conference this year.
Using students as producers is an effective way of encapsulating the student audience as the app is designed for, and by, the target market. The creators surveyed 1,800 students and found that amongst the regular student mail and exam timetable demands, students were also interested in systems that could help track funds and tips such as a list of good places to nap around college.
Mobile collaboration and communication is a key benefit of mobility. Online discussion boards, which can be accessed via mobile, keep students connected with peers and instructors and can be used to send out notifications of grades and announcements – saving valuable student time. An added benefit, perhaps, is the 'easy access' factor; many universities are integrating tests into their mobile systems, meaning that students can complete them in quick and digestible ways whilst on the move.
Ultimately, student mobility takes interactive teaching and learning to a new level, giving students and educators access to their courses, content and organisations on a variety of devices. Over the next year, we will start to see education content created specifically for use on mobile, and this will provide real-time aid in the classroom. And as more schools start to adopt mobile technology into their curriculum, we will start to see allowances change about what is and is not acceptable for classroom use.
At the Blackboard Teaching and Learning conference in Dublin we saw delegates from universities and higher education institutes across Europe gather to discuss the future of the use of technology in education and mobile played a big role. Like all progress, the risks taken need to be weighed against the returns offered for students, faculty and administration. But the lessons learned are being shared and the use of mobile in education is no longer a novelty but now a necessity.