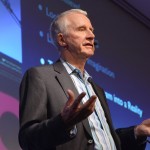 It is with regret that we announce the death of the documentary filmmaker Michael Grigsby. Michael gave a rousing keynote speech at OEB 2012 and was an enthusiastic leader of the VIDEO EDUCA sessions on storytelling and editing. Participants at the conference were also able to watch a sneak preview of the film We Went to War, that Michael and his co-author Rebekah Tolley had just completed.
The British Film Institute in its tribute hailed Michael as "one of the giants of British documentary filmmaking". His career spanned six decades and included films such as I Was a Soldier (1970), BAFTA Award-winning Lockerbie – A Night Remembered (1998) and his monumental Living on the Edge (1987) which are still highly regarded today.
Michael was always committed to education. He founded the pioneering Abingdon Film Unit  which taught school pupils from  12-18 years of age to make professional quality documentaries, and which, in the ten years since its founding, have won a string of awards.
Adam Salkeld, curator of VIDEO EDUCA says:
"We were honoured to have Michael at OEB last year. Few will have forgotten his impassioned keynote to a packed plenary session. His storytelling Labs were a real treat for delegates bringing, as they did, not only a master at the art, but one who so obviously enjoyed sharing his talent and experience."