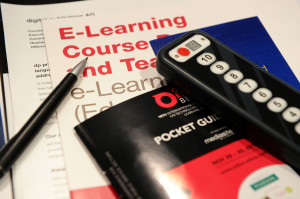 The Language Learning: Methods and Tools session at ONLINE EDUCA BERLIN 2012 allowed experts to present their research and findings on the latest language learning technologies and systems in use today.
In this session, the speakers gave a complete overview of both ICTs and methods used, covered aspects such as concrete ways to motivate students, collaborative and interactive tools, mobile applications, and criteria to ensure the quality of language learning.
By Matthew Labrooy
The session, which ran for two consecutive days, began with the question: what is the actual status of language learning in combination with the use of Information Communication Technologies (ICTs)? The speakers focused on presenting their findings with relation to three main principals: listening to learners, helping learners to learn and collaborative learning.
A key stance of speakers was that although current learning technologies are not a replacement for highly trained teachers, in the case where classes are unavailable or teachers do not have access to comprehensive educational resources, using specific learning technologies can greatly enhance the quality of learning for students and provide support in their efforts to learn a language.
In the case of Brendan Ó Sé of the University of Cork, it was the poor quality education materials, provided for use with his students, which drove him to frustration. Taking the initiative, Ó Sé scrapped the recommended books and had students begin producing their own learning content using online resources.
The initiative resulted in a collaborative learning experience for his students while simultaneously putting their language learning into real and authentic practice.
Ó Sé isn't the only one unsatisfied with the educational content available for language learning. The British Council, the United Kingdom's international organisation for cultural relations and educational opportunities, has also raised their efforts to aid language-learning in the UK by producing apps for use with mobile and portable devices to enhance the learning experience of ESL students. These government led projects are based on case studies that evidence great benefit in using mobile and portable technologies for language learning.
The apps available on all mobile and portable devices are being used to bring pedagogically appropriate content and activities to learners both inside the classroom and beyond. These have helped extend the educational range of teachers by allowing learning to continue beyond students. ONLINE EDUCA BERLIN 2013 will once again feature a strong thread on language learning methods and tools.