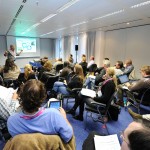 ONLINE EDUCA BERLIN 2011 kicks off with pre-conference workshops at the Hotel InterContinental Berlin on Wednesday November 30th. Following the OEB 2011 theme of new learning cultures, the workshops offer new dimensions in the use of ICT in education, training and business. We are taking a fresh look at e-learning and new learning cultures. One workshop is targeted at those planning, managing or directing the implementation of an e-learning programme. Change Management for Learning Professionals: Ensuring Successful E-Learning Programmes and New Learning Cultures is presented by Lance Dublin.
Lance Dublin has thirty years' experience as a management consultant, advising over 200 companies from all sectors of the economy. Based in San Francisco, with an international client base, he is also co-author of the 2002 book Implementing E-Learning, a must-have primer on how to manage change in the incorporation of ICT tools in the business and learning environment.
He will be hosting one of three all-day workshops at ONLINE EDUCA BERLIN 2011 under the rubric Change Management for Learning Professionals: Ensuring Successful E-Learning Programmes and New Learning Cultures. Dublin argues that learning the ropes of change management is an essential step for managers who wish to integrate e-learning programmes in their businesses. In the realm of new learning cultures, such a competence is no less important than understanding the role that evaluation plays in planning and implementing change seamlessly and effectively. He argues that while content, design and suitable technology are key factors in the success of any e-learning programme, any such programme not cushioned by a sound change implementation strategy will flounder or fail. Adopting changes successfully should not be a top-down affair: All players in the organisation need to be energised and motivated in order to accept the change and take full advantage of its benefits.
With years of strategy development, programme design and organisational management under his belt, he presents a case for the application of new technologies and approaches for the implementation of large-scale, transformational changes that lead to tangible business revitalisation. While the importance of the role of e-learning-inspired programmes is now widely acknowledged, there is nevertheless a need for all stakeholders to understand fully the modus operandi and purpose of these programmes within the organisational setting. Dublin says, "E-learning programmes and new learning cultures don't just implement themselves. It's important to employ a well thought-out strategy and a tactical implementation plan." Failing this, the desired changes are delayed or they fail to achieve the stipulated goals, and sometimes the desired goals are ultimately rejected.
In outlining the principles of his take on change management, he presents his I-3 Change Implementation Model which he has fine-tuned over three decades. Using a business case study, he incorporates principles from psychology, consumer marketing and organisational communication and behaviour to analyse practicable steps that can be taken by small-scale companies and large organisations alike in managing change. In the workshop, he will impart his skills, knowledge and analytical tools so that all participants – be they learning professionals or mangers – will walk away with a sound understanding of how to implement effective change successfully. With a fair mix of lectures, focused discussions and group work, the workshop will be highly interactive, thus allowing participants to engage fully with the principles and practices of effective change management.
Participants will also be given a complimentary copy of Implementing E-Learning by Jay Cross and Lance Dublin.
Details on how to sign up for this and the other ONLINE EDUCA BERLIN 2011 workshops are available here.