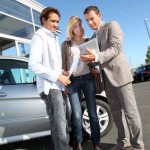 The global recession and temperamental markets of the last few years have necessitated fast thinking and innovation by businesses that wish not only to survive, but to thrive. At Business EDUCA, the role that learning and development (L&D) plays in small, medium, and large organisations will be explored by representatives from different industries. In session BUS57, entitled Ensuring Business Competitiveness, Sann René Glaza of Toyota Motor Europe (TME) and Alan Johnson of the International Finance Corporation (IFC) share their views.
Identifying the issues
Using data from commissioned research and in-house studies, Sann René Glaza presents a case for flexible, tailor-made L&D material in order to keep a business at its competitive best. Her Business EDUCA presentation Building Technical Competency at Toyota Motor Europe to Drive Competitive Advantage Across Europe is based on Driving results with learning technologies in the Automotive sector, a study published in May 2011 that investigates just how technologies are being incorporated in education and training at fifteen automotive manufacturers in Europe. With nine plants and around 80 000 employees scattered throughout Europe, TME has to continually look for new ways to reach their dealer network more quickly and with fewer steps between development at headquarters and implementation on the ground. Glaza offers a first-hand account of how Toyota is weathering the storm by investing heavily not only in mobile learning for customer-facing staff, but in refining the certification programme for technicians. "The core technical training programme we have at Toyota, TEAM21, was already undergoing a facelift before the research study," she says. Now they have some concrete figures on what's been working and what not. For example, 35% of respondents use or are open to the idea of social media, blogs, and wikis not only as a workplace communication tool, but a vital way to find information. "Our implementation strategy has not changed as a result of our findings in the survey, but in fact reinforced our decisions to continue efforts in a competency based training model for technicians in our TEAM program. We will use our other training programmes to explore the use of rapid e-learning tools, video and Flash as we go forward."
An autodidactic approach
Training staff at the dealerships is tedious and time-consuming because of the ever-evolving Toyota Touch & Go multimedia systems and the need for demo systems that work outside of the vehicle. There is also a grey area between dealer staff training and customer training. Since many knowledgeable customers are keen to educate themselves on the workings of their vehicles, the company has to ensure that they have a comprehensive collection of sample videos and websites with adequate information for post-sale support. This  solution has to be adapted to the specialised demands and nuances of the market in each country. Their Learning Content Management System works on the principle of "Thinking regionally, acting locally." In the organisations surveyed, it seems that few are concerned with translating content to make it fit local needs, something which Glaza says Toyota makes a priority. She explains, "Providing a video in English is not the hard part. Deciding in advance if it will be dubbed or subtitled; if all features are available in all countries; if the screen shots of the device need to be replaced with local language…that's more challenging. Thus thinking both from a regional perspective and in consideration of local implementation is mandatory on every project we undertake." The customer is literally and figuratively in the driving seat, and that's a key step in ensuring business competitiveness.
The language of success
To stay competitive, TME doesn't rely solely on their formal staff training and certification programmes. Self-driven L&D plays a prominent role. On her visits to dealerships across the Continent, Glaza has found that people turn to YouTube when they have not been provided with a route to technical documentation and manuals in the language they want. "We need to stay 'one step ahead of the game' by making sure our technicians can easily access the information we provide, to ensure the safety and satisfaction of our customers. A manufacturer cannot control the quality of a solution on YouTube, or a blog site. Our technical training material must therefore be engaging, interactive and accessible."
Being adaptable
A focus on languages and flexibility is something that Alan Johnson, a Product Leader in the Sustainable Business Advisory division of the IFC, agrees on. One of his key projects is the SME Toolkit, an IBM-IFC collaborative effort that has been running for nine years on all continents which Johnson describes as a "qualified success". The SME Toolkit provides online assistance and information on how to grow a business from the ground up. With IBM as the technology partner, the IFC works with a network of 25 developing country organisations to run and maintain 35 localised SME Toolkit sites in a total of 18 different languages. Collectively, the SME Toolkit sites have over 5000 content items and attract 5 million unique visitors per year.
With a global membership, it is clear that despite cultural differences in different markets, there are trends in the ways e-learning is shaping L&D. These are the finer points that Johnson will share in his Business EDUCA presentation. He says, "We have gained good experiences of how technology can be a great enabler, empowering small businesses in developing countries, increasing productivity, creating jobs and raising incomes." However, there are trade-offs to consider. While technology can enable wide reach and lower costs, it is not always clear what learning outcomes have occurred. He explains, "We may have 'tailored content', but does it result in behaviour change amongst the intended target groups? Our current solutions are moving towards 'blended learning' approaches where the technology platform is combined with structured counselling and mentoring to assure quality and provide more robust outcome monitoring." His OEB presentation is entitled Reaching Small Businesses in Emerging Markets: The Experience of SME Toolkit, and he says, "Specific cases will be presented to show how technology enables crucial information gaps to be overcome in difficult markets in a cost-effective way."
Sann René Glaza and Alan Johnson will present their papers at Business EDUCA Session BUS57: Ensuring Business Competitiveness which takes place on Friday, December 2, 2011 at 11:45 – 13:30.