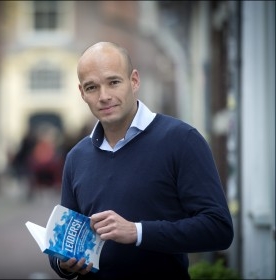 LiDRS BV is a full-service training and consultancy agency based in the Netherlands. With a new inspiring location, next to Schiphol airport and just a few minutes walk from Hoofddorp Central Station, LiDRS delivers high-end leadership trainings, coaching and consultancy services.


LiDRS is an abbreviation of Leadership Development Research and Support. The 'I' stands for 'innovation' or 'inspiration'. Both elements are crucial for LiDRS to be successful. LiDRS started in 2014 after Jochen Hekker's book 'Leading up, down and across' was published. Together with business partner 'Bastiaan Ruizeveld de Winter', they started to develop trainings based on their knowledge, experience and believes. Both founders have a strong military background as a submarine commanding officer and EOD diver. Their multiple missions to high risk environments created their thoughts and believes what leadership is all about. And that is not per se the top down, hierarchical leadership one might think of when looking at their military background. On the contrary! Leaders should be focusing on team improvement and ensuring all members get better every day!


LiDRS Consultancy
As leadership development trainings started to grow, Jochen's drive for business improvement was just a small step. His background in Business Engineering and Operational Auditing, combined with extensive knowledge and experience on Human Factors, ensured performance improvements in several organizations. Nowadays LiDRS Consultancy has a unique program to deliver performance improvement in many organizations. LiDRS Consultancy works in High Reliabiltity Organizations (HRO), such as the Process Industry, Oil and Gas Industry, Aviation Industry and Healthcare. But Real Estate and banking are also being served, just to name a few.


LiDRS Performance Program mainly focusses on 2 elements; 1. Structure and frameworks and 2. Human factors. Depending on the need of the customer, LiDRS puts the emphasizes where needed in order to boost your performance.


LiDRS Academy
LiDRS academy focuses on training young and experienced managers and leaders to increase their potential as a leader. We have unique trainings, Master classes and workshops to ensure leadership and team development. We welcome teams and individuals at our inspiring location but we are happy to travel to your location and conduct 'on premises' training. From a 1-day Masterclass to a 6-day Practitioner and 3-day Master course. An initial Crew Resource Management (CRM) training to understand what teamwork is all about, to a full week of CRM training in order to create more effective teams. We have innovative workshops for public speaking, we train teams on a boat through the canals of Amsterdam and we have a workshop 'explosive leadership' where you and your team will be challenged to be a bomb disposal unit and clear a 'real life' bomb. All necessary aspects of leadership, teamwork and communication will be tested.


LiDRS-model®
The biggest gamechanger for LiDRS is the launch of the new SaaS Solution in 2020, called: LiDRS-model®. Based on 6 Key Leaedership Features (KLFs), each KLF has multiple building blocks that are a mixture of skills, traits, competencies. The 6 KLFs form a personal dashboard for leadership development. We compare this model to a basic-6 instrument. A pilot flies his airplane on 6 main clocks; the 'Basic Six'. To measure leadership development we look at your own personal dashboard. Each KLF displays how you see yourself and how others perceive you on each building blocks, based on anonymous 360 degrees feedback. We can even add a company standard for each measured item. In a blink of an eye, you can see a discrepancy of how you perceive yourself on skills and traits that influence your leadership abilities, and how others perceive them.


So there's the personal dashboard, showing leadership development potential. But is doesn't stop there. Based on your leadership development potential, we start delivering targeted content for your personal development. With a bi-weekly article, video or podcast, we deliver material that will help you develop on those items that need development the most. And after a few months we measure performance again and expect development. We show progress, trends and can even compare your development to pears.


Our best trainings can be one of the offerings, if this fits your learning requirement. But for larger companies, one can imagine that your own trainings can be incorporated into the system, based on the relevant building blocks. This way, we ensure that your training audience is not just an audience, but we match the right candidates with the need for that specific training. A smart way to deal with efficient use of training capacity. All directed by one or more administrative roles in your organization. You have control.


On top of that, we can even use the LiDRS-model® to measure our success in consultancy services. If we start working on performance improvement in your organization, we'd like to measure our objective success by the progress your staff is making.


Needless to say that the LiDRS-model® encompasses many other theories in full. The model measures progress in emotional intelligence, psychological ownership and even leadership in Operational Excellence. In measuring trends and progress we provide an overview of your personal development as a leader.


Our new model has a great dashboard view, many data analytics and is extremely user friendly by using lots of animations and incentive systems for users. Feedback by respondents are easily given by smartphone. After years of talking about Emotional Intelligence or Operational Excellence, we can now show progress in development of your leaders on these topics. Our new LiDRS-model® 2019 will be revolutionary in our industry with many overlays for more insight in real leadership development.


Psychological ownership
In September, Jochen's new book will be published by publishing agency 'Boom' in the Netherlands. His new book focuses on increasing psychological ownership by leadership. Several aspects of leadership are needed to ensure people take ownership in a company. Ownership on their job, tasks, results, etc. In almost every consultancy or training assignment that LiDRS sees, leaders and managers struggle to increase ownership by their people. With this latest book, a new approach to ownership has finally been written down. Simple steps to really increase the level of ownership in any organization, backed by a useful reference guide. The book's subtitle is going to be 'how to increase your company's performance in only 4 phases'. And that basically says it all. The new LiDRS-model supports the increase of ownership by measuring progress.


That's who we are. Experienced, passionate and down-to-earth people that are doing their very best to help you to perform better. We inspire and we are innovative. But above all, we are eager to get to know you, learn your business and look for ways to improve. We would like to invite you for a cup of coffee without any strings attached. What do we have to lose? It's going to be a win-win, that's a certainty!


Jochen Hekker will present the LiDRS-model® at OEB 2020