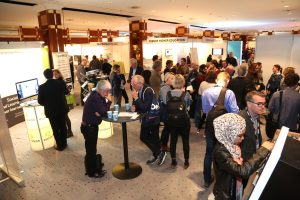 Join us in vibrant Berlin as we shape the future of learning at OEB Global 2017, Europe's largest interdisciplinary conference. Taking place from December 6-8, OEB will welcome over 2300 professionals from approximately 100 countries to partake in a diverse and dynamic learning environment in which you will engage in the exploration of and preparation for the future of digital education in an unprecedentedly ambiguous world. The three-day event will be replete with expert analyses and collaborative activities addressing the most significant ideas, trends, and developments in the realm of digital learning.
Today's world is fraught with dramatic demographic change, political turbulence, economic challenges, and environmental threats – and in tomorrow's these dilemmas seem inevitably bound to escalate and intensify. Born of the rapid and continuing vicissitudes enveloping us, this year's theme of 'Learning Uncertainty', will immerse participants in a reflective environment devoted to understanding how transformative education, training, and learning, can equip business, government, and society to prepare for, and conceivably even thrive in, a new era shaped by contingency.
OEB will guide you in your quest for direction in the face of the most pressing themes confronting our industry including:
● Adapting for Action – Explore how schools, institutions, workplaces, and learners should change to keep pace with new technologies and economic turbulence.
● Collaborating to Compete – Discover ways to reform our systems, structures, and methods for learning and development by means of partnerships, global classrooms, social networks, blockchain technologies, and the combination of stakeholders from both the private and public sectors.
● Redefining Learning Technology – Equip yourself with up-to-date knowledge of the many technological advances that improve delivery.
● Designing to Engage – Examine how good design can contribute to innovation and improve educational participation.
● Enhancing New Skills Learning – Ascertain the skills that learners and learning professionals need to thrive today and tomorrow.
● Made-to-Measure Learning – Understand how to best harness metadata; track performance; analyse, adapt, and assess learners' work; and provide feedback and eventual certification.
OEB's programme is designed to provide you with the latest best practice from leading organisations, alongside opportunities to meet, discuss, and network with policy makers, higher education leaders, chief learning officers, technology and learning experts, learning-and-development professionals, change managers, ICT administrators, online-learning curriculum designers, and many, many other well-informed, savvy practitioners.
Convening more than 100 sessions, OEB will feature exploration and learning based around the latest trends and developments in adaptive learning, personalisation, analytics, gamification, virtual and augmented reality, design thinking, collaborative learning and microlearning, self-directed learning, implementation, professional development and leadership.
Offering something for everyone, OEB is structured with a cutting-edge diversity of engaging and practice-focused session formats, including plenaries, the spotlight stage, learning cafés, unconferences, discussion and debates, skills-building tech labs, discovery demos, academic research presentations, and boardroom-knowledge exchanges. In addition, attending OEB is an unforgettable and interactive experience!  Our experts on stage don't merely lecture to a passive audience; they invite almost continuous interaction, involving participants and relating their vast experience to the ideas presented.
Once the sessions end, you will never run out of ideas to explore at our exhibition, featuring over 80 international exhibitors, ranging from established market leaders to emerging start-ups. Meet preeminent learning-technology providers and acquaint yourself with the latest disruptive business models of international edtech start-ups. OEB has proved itself a hub for developing new opportunities for cross-border and cross-sectoral collaboration. The exhibition is a great place to find partners and solutions for successful digital transformation.
We are excited to announce a panel of internationally renowned keynote speakers, including Aleks Krotoski, broadcaster at The Guardian,  Abigail Trafford, author and leader of The Movement to Fight Ageism, Sanjay Sarma, Vice President for Open Learning at Massachusetts Institute of Technology (MIT), Claire Fox, Director of The Institute of Ideas, writer, TV and radio panellist, Julia Hobsbawm, the world's first Professor of Networking / author of "How to Manage Knowledge, Networks and Time", Marc Prensky, founder and Executive Director of The Global Future Education Foundation, Lauren Herckis, anthropologist specialising in Faculty Culture and the Use of Technology at Carnegie Mellon University, Andrew Keen, author, speaker, entrepreneur and controversial commentator on the "Digital Revolution", Patrick King, Insights Lead, Learning Solutions at LinkedIn, Heather McGowan, internationally recognised expert on the future of work and learning
Register today and join us for a diverse, collaborative and transformative experience at the cutting edge of educational and learning technologies.
Check out our program and more information on what to expect on our website.