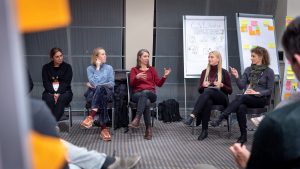 Globalisation and digitisation are key drivers for our fast changing working and learning environments. Schools, universities and workplaces are in the process of adjusting their systems to the needs of new, digital generations and future professions. Why not make use of Design Thinking: a user-centred approach, which involves learners in designing their learning environments and helps to focus on personal development? Why not use collective mindsets and achieve higher commitment in the process of learning?
The Design Thinking Mindset
Design Thinking is a user-centred approach. The outcomes of Design Thinking processes intend to tackle real-life problems people face. This is the reason that we spend at least half the time researching and diving deeper into issues, to make sure we truly understand the challenges users are facing. Often, the actual problems are not the seemingly obvious ones on the outside but can be found hidden, below the surface.
What Does "Design Thinking Is a Process" Mean?
Design Thinking is based upon three principles, starting with the team. An interdisciplinary team helps to get insights and quick feedback, opens perspectives and multiplies knowledge. Secondly, it is important that we work in spaces which can be easily be adapted. We need to be able to sit, stand, move tables around or gather around whiteboards or flipcharts. We use different materials to build prototypes and set up testing scenarios so that ideas can easily be adapted and iterated. Finally, the method itself is key. The Design Thinking process can be divided into six stages. Some stages deepen our understanding of problems, others generate wild ideas or help to cluster and focus ideas. We have the opportunity to revisit or move forward at each stage, depending on whether we feel something is missing, or we want to iterate on a prototype. The stages provide a structure and a professional Design Thinking coach will always provide a team with a selection of methods for each stage and react in an agile manner to team needs.
Deepening Teaching and Leadership Practices
Design Thinking helps learning professionals connect with learners – in order to help learners develop into doers and empathic thinkers. You too, can use the Design Thinking mindset and processes to deepen teaching and leadership practices and the potential of learners to develop learning-centred learning environments. This belief drives us – and is the purpose for our work in the field of education.
Written by Max Barros, Annkristin Eicke and Anne Güntzel.