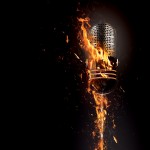 Do you have something exciting, innovative or challenging to say about the future of learning at work? Do you think you can inspire your fellow Business EDUCA participants with your take on this year's theme, "Thriving in Uncertainty"?
If so, then why not apply now to take part in the Business EDUCA Ignite session? It guarantees a fast-paced exchange of new ideas, as each presentation is limited to 5 minutes, with only 15 seconds per slide.
If you have a burning issue you want to share with the industry, please send a short outline of what it is you want to say in your presentation to IGNITE@OEB2012.com. Please note that there are a maximum of 6 places available, so be sure to send in your proposals as soon as possible.
To find out more information, you can read about last year's IGNITE here, or you can click here to find out more about Business EDUCA.