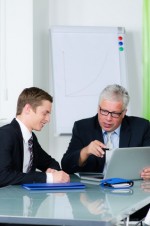 70:20:10 is a popular learning and development framework that has proven to be a success for many modern organisations, but what exactly is 70:20:10 and how can it be successfully implemented into the workplace?
Charles Jennings of Duntroon Associates and Director of both the Internet Time Alliance and the 70:20:10 Forum will lead a half-day workshop at ONLINE EDUCA BERLIN, where he will help participants explore and exploit the advantages of utilising the 70:20:10 framework. Charles has worked with more than 100 organisations around the world on their 70:20:10 strategy and implementation plans and will provide insight based on this extensive expertise.
This is a valuable opportunity to explore the challenges and successes that the 70:20:10 learning framework can provide for organisations.
By Matthew Labrooy
Brought to attention by McCall, Lombardo and Eichinger at the Centre for Creative Leadership, the 70:20:10 framework for learning and development has become a popular framework used by an increasing number of organisations.
The 70:20:10 framework is based on the following principles:
70% of learning is through practice and experience
20% from other people, through conversations and networks, and
10% through formal training
The framework stipulates that the most effective way to learn is to train your staff on the job – as opposed to in training facilities – and provide them with the opportunity to practice their new acquired skills. The framework has proven useful in helping organisations change focus on employee education and create strategies for utilising social learning procedures. 70:20:10 allows organisations to achieve these objectives by reducing ineffective learning practices and concentrating on informal education for employees.
Jennings believes that formal, structured learning is ineffective and costly, and explains that research indicates that learning is based on context. By removing employees from the workplace and working environment, a business is reducing their employees' ability to learn the necessary skills for their job. If you keep people in the workflow and provide them with facilities and support, the learning is much more efficient, much more cost-effective and much faster.
Despite the aforementioned figures, Jennings stresses that 70:20:10 isn't a fixed ratio that should be followed with strict adherence. It is rather an agent of change that helps workplaces to adjust focus and create an environment that educates and fosters the development of their employees. He believes the most powerful use of the framework is to provide a structure for de-focusing time and effort on sub-optimal away-from-workplace training and re-focusing on more efficient and effective types of development. Jennings explains:
"Almost without exception, in my experience, organisations that have adopted 70:20:10 have achieved greater impact on performance at organisational and individual level at lower cost than was being achieved beforehand."
According to Jennings, most of the 70% and 20% is made up of experiential learning on the job. This means that organisations need effective managers who can support employee education and aid the learning process, encourage staff to have new experiences and give them the opportunity to practice the skills, cementing their learning. Studies have shown that people will forget almost half of what they've learned within one hour of learning it unless it is practised repeatedly.
This workshop will allow participants to gain a clear understanding of the challenges and opportunities associated with implementing the 70:20:10 framework. They will also have the opportunity to benefit from the personal experience of an expert in the learning and development field, and to exchange experiences with fellow learning professionals.
Implementing the 70:20:10 Framework: A Practical Workshop will take place on Wednesday, November 28th from 15:00 – 18.00 as part of a series of ONLINE EDUCA BERLIN pre-conference events. Spaces for this workshop are limited but you can still register here.
For more information on ONLINE EDUCA BERLIN sessions, as well as the full programme and list of speakers, please click here.