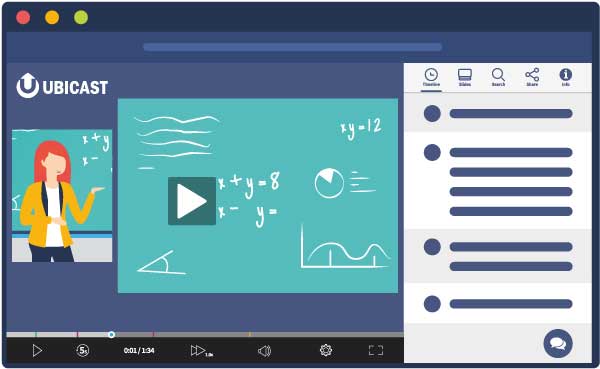 Five years ago, we were listening to a speaker presenting at a 'Plenary Session' during the annual OEB Conference. He was thanking the industry for creating the tools that had allowed him to participate in the very first MOOC held in the Netherlands a couple of years earlier. His life had been completely transformed thanks to that opportunity. Video learning is a fantastic opportunity for Educational Institutions to offer learning experiences to new and existing audiences worldwide. As the speaker stated it, lives can be positively impacted.


Let's think back 15-20 years ago, universities were pioneering lecture capture by investing in heavy, cumbersome equipment and countless man-hours in recording important lectures to later archive in Betamax or VHS tapes. It was only 10yrs ago that this process was made easier by DVD technology. The need to keep a record of our learning and history has existed ever since we have memory.


Today, lecture capture is no longer a luxury or commodity, it is a need that is increasingly becoming an industry standard. As life-long learners we almost take technology for granted and expect it to be available as and when we need it. New Generations are growing up with no memory of not having various technologies at their disposal, which makes for a new set of challenges.
The need for immediate availability of information
The ubiquitous presence of information at anytime, anywhere and on any device
The ability to shorten distances
Interactivity, searchability and usability
Security and safety (GDPR)
Scalability, cost effectiveness, compatibility
These challenges present themselves to learning institutions and solution providers like Ubicast on a daily basis. We have met these challenges head on by brainstorming and coming up with ideas that we presented to digital learning teams for valuable feedback. By working tirelessly and in collaboration with our trusted users we have developed Miris – a new range of capture solutions to fit every need and situation. This is paired with the latest version of our video platform MediaServer – an intelligent and interactive CMS with powerful AI and analytics that is certain to be your LMS' best companion.


Many analysts believe that the Higher Education landscape will experience a disruptive change before 2025, we believe that the change has already started – let's face it together.


Ubicast is a European leader in Lecture Capture and Video Platforms, with more than 90 universities in 10 countries trusting their solutions. Discover their solutions and meet with their team at the OEB exhibition!