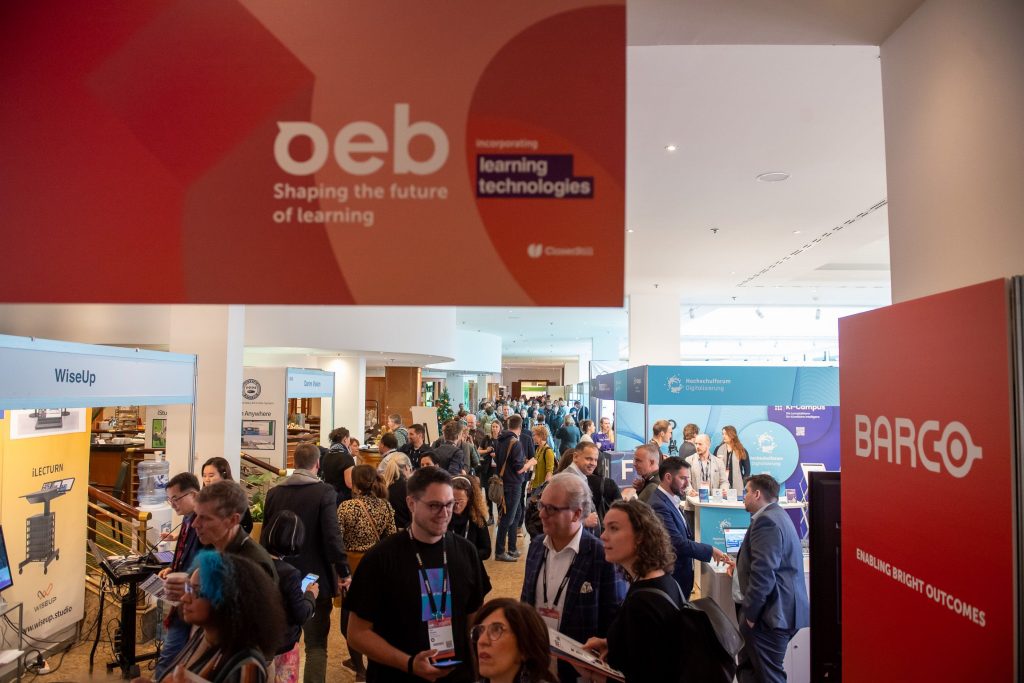 On November 23 – 25 this year, OEB Global returned to InterContinental Berlin. This 3-day digital learning and training showcase took place in the heart of Berlin, and brought together over 2,000 people from more than 70 countries worldwide. We thank every delegate, speaker, exhibitor, visitor, and everyone who made this an event to remember.


Did you attend this year? Or are curious about what this event has to offer you? We talked to a range of people live at InterContinental Berlin, to see what they thought of OEB 2022. Keep reading for a selection of live testimonials filmed on-site from November 23 – 25.







"It's very interesting — so much on offer."

Rachel Collins, Programme Manager at University of Applied Sciences Utrecht


"The buzz is just everywhere!"

Richard Powers, Learning Designer at the Professional School of Education, University of Stuttgart





"It's a magnet for the curious."

Laura Overton, Founder at Emerging Stronger


"Artificial Intelligence has been big for a number of years, but, you know, this is really the first post-pandemic conference where we've all been able to get together and talk about it, and talk about what it means for education."

Stephen Downes, Researcher at the National Research Council Canada


"I'm also very impressed with the quality of conversation; the questions are rich, the interactions are meaningful as well – I think that is lending itself to continuing engagement even after this event."

Njeri Mwagiru, Senior Futurist at Institute for Futures Research (IFR), at Stellenbosch University Business School



"One of the key themes at OEB this year is that yes, technology is necessary. We can't work, we can't learn without it – but it always has to serve the purposes of the people."

Donald H Taylor, Chair at Learning Technologies Conference


"I came here to get a bit more feeling around innovative in education and what are the hot topics right now internationally."

Rosa Douma, Project Leader at Rotterdam University of Applied Sciences


"I want to re-focus now, to do more behind the scenes in creating more pedagogically-sound programmes or courses for our students."

Nu Driz, Educator at Lieden University


"I am very happy to be here – a lot of interesting sessions."

Ayauly Anuarbekova, Director of Customer IT Service at the Autonomous Organization of Education, Nazarbayev University


"The diversity of the people I meet – I meet some people who are in university, people that work in corporate learning, people as consultants – they're all focused on learning."

Ilan Ifergan, VP of Sales at Tailor-ED


Filmed at OEB Global 2022 by Sven Janke-Nowak and written by Chloë Sibley.