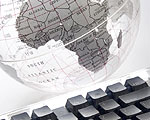 ONLINE EDUCA BERLIN, the international hub for exchanging ideas and experiences on ICT supported education & training, is expecting over 2000 participants from a record number of nearly 100 countries. No other conference in this field covers such a wide spectrum. The wide range of topics for 2010 includes ICT education initiatives in the Middle East, developments in the "young e-learning countries" of Central and Eastern Europe and e-learning activities to improve teaching and learning in Africa.
Middle East and Northern Africa: Averting a "Youthquake"
Information and Communication Technology has boosted business sectors as well as the education and training sectors in the MENA region (Middle East and Northern Africa). Several countries have invested extensively in ICT in a bid to modernise their schools and universities, economies and administrations. Innovative educational strategies have resulted in new methods of implementation and an increased interest by the private sector in investment in e-learning.
However, there is a great need to intensify efforts. About half of the region's population is estimated to be younger than twenty-five, with high youth unemployment rates. The OEB session on ICT in the MENA region, moderated by Talal Abu-Ghazaleh, Chairman of the United Nations Global Alliance for ICT and Development (GAID), will show how e-learning can help to avert a "youthquake" caused by mass unemployment and slow down the "brain drain".
Federico Dondero and Abdullah Al Mogheerah will talk about how Saudi Arabia tackles these questions. Their OEB presentation will introduce the Maknaz Project which provides an infrastructure and high value content to Saudi students.
In the same session, Klaus Bader-Labarre will elaborate on the role of e-learning in technical and vocational education and training in Egypt, Jordan and Lebanon. He will reveal how technology can help to overcome the widely perceived mismatch between graduate skills and the need of the labour market. Klaus Bader-Labarre represents the German not-for-profit organisation InWEnt.
Narimane Hadj-Hamou from the Hamdan Bin Mohammed e-University, United Arab Emirates, will talk about E-Learning as a Paradigm Shift in Education. Ayman Mansour Murad will present how the United Nations Relief and Works Agency for Palestine Refugees (UNRWA), Jordan, uses ICT to educate refugees.
New E-Learning Countries in Central and Eastern Europe
The rigorous educational systems of Eastern European countries and former Soviet republics did not allow much room for individual development. How has 21st century technology affected learning in this region? OEB will present the most innovative cases.
In the Caucasian Republic of Georgia, the advent of modern information technology in the education system "has changed the attitude towards the learning process dramatically", says Tamar Lominadze from the Georgian Technical University in Tblisi. She will present how Learning Management Systems and Web 2.0 tools are used in blended learning in Georgia.
On behalf of the Mediterranean University in Podgorica, Montenegro, Snezana Scepanovic will explain how online learning is shifting from an instructor-centered to a participatory student-centered approach. She will present the new model for creating collaborative e-learning environments in the universities of Montenegro based on integrating Web 2.0 applications into Moodle LMS systems.
In Poland, a special project set out to overcome teachers' "e-barriers" – and has become a significant driver of switching teachers' attitudes from "Internet – what is it?" to "The Net – I love it!". Jan Mysior will introduce the project at OEB.
Russia has also made considerable advances in e-learning. Maria Tatarinova will summarise how the demand for new technology in education and training has rocketed in both densely populated Russian areas as well as in its vast remote regions. Olga Kuranova will present the special cooperation of St. Petersburg Transport University with JSC Russian Railways in the field of e-learning.
Learning and Teaching in Africa
Africa has the largest percentage of young people anywhere in the world – even larger than in the MENA region.
At OEB, a special session will offer Africa'sbest practice presentations, showing technology solutions that have been devised or implemented in an effort to provide education for all.
"Given the pace at which the scientific landscape changes, even practising scientists can find it difficult to keep up with advances outside their fields of specialisation. Classroom science teachers face the same challenge," says Charles Twesigye from Kyambogo University in Kampala, Uganda. He will demonstrate the teacher training programme developed by the African Virtual University and its partner institutions, providing up-to-date content and laboratory techniques in chemistry, biology, physics and mathematics.
Bantu Morolong from the University of Botswana will take a more philosophical look at e-inclusion – or rather e-exclusion. She argues that there is an age-based technological divide in higher education – older learners are disadvantaged in technology-mediated teaching and learning.
Daniel Richard Sternwilldescribe learning innovations in remote villages in northern Uganda – how students and teachers use digital repositories (off line Wikipedia), electronic books or audio-visual YouTube lessons in maths, physics, biology and chemistry at solar powered computer labs his NGO Uconnect has installed at village schools.
OEB Sessions mentioned in the text:
Focus on Mena:Middle East and Northern Africa: Thursday, December 2nd, from 14:00 – 16:00.
From the New E-Learning Countries: Thursday, December 2nd, from 14:00 – 16:00
Learning and Teaching in Africa: Thursday, December 2nd, from 16:30 – 17:30
Further OEB presentations on e-learning in Africa:
Jyrki Pulkkinen, Global e-Schools and Communities Initiative (GeSCI), Kenya, UNESCO TPD Framework and How to Apply It: Case of Rwanda CLA34, Thursday, December 2, 2010, 16:15 – 17:30
Vicky Onderi, National Environment Management Authority (NEMA), Kenya Role of NEMA in the Development of E-Learning Strategy for the Environment Sector in Kenya SFS04, Thursday, December 2, 2010, 12:00 – 13:30
Maggy Beukes-Amiss, Namibia e-Learning Centre (NeLC), Namibia Experiences from E-Learning Trainings in Africa SFS04, Thursday, December 2, 2010, 12:00 – 13:30
Caleb Ouma, United Nations Environment Programme (UNEP), Kenya Development of the Pan-Africa E-Learning for the Environment Network. SFS04, Thursday, December 2, 2010, 12:00 – 13:30
Stephen Haggard, African Digital Diaries – a celebration of African ingenuity, adaptability and passion for learning at the frontiers of the digital universe. DEM16, Thursday, December 2, 2010, 14:30 – 17:30