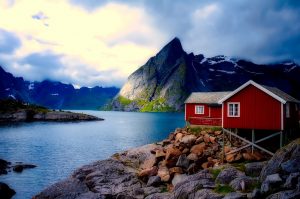 Norway is one of the world's most digitalised countries; some even consider it number one![1] Nevertheless, rapid technological development is also creating challenges. New
technology and more digital solutions are creating an increasing demand for new competencies. Development of 21st-century skills is a requirement for everyone.
The number of occupations that do not require digital skills is rapidly decreasing. All realms of working life and society at large require internet access, as well as the ability and tools to access digital services, both public and private. We have to be able to quickly learn to use new tools in order to be a part of working life and society. Examples of this development can be found in various occupations such as teaching, industrial work and health care. With expanding digital access to knowledge, the teacher's role is shifting towards that of a facilitator, motivator, and guide, rather than merely an instructor. Industrial workers are required to operate software, whereas they previously used tools and "got their hands dirty". Healthcare workers need to work digitally in more areas, for example registering patient data, communicating, reading work sheets, and operating medical equipment.
Digital skills – the foundation 21st-century skills
The concept of basic skills has changed with the digital evolution, and the "new basic skills" are those of the 21st century. These abilities include life and career skills, basic skills and knowledge, learning and innovation skills, in addition to ICT skills. Lifelong learning is a concept to which we must all adapt. It is no longer an abstract idea or something reserved for people without higher education. The workplace is playing a central role in achieving skills development and learning new tools. There is increased political awareness around the fact that digital development occurs faster than political decision making and policy development.
The digital evolution affects basics skills in general, not just digital skills. In Norway, we have been focusing on the basic skills of reading, writing, oral competency, numeracy and digital skills. With the advancement of technology, digital competency is no longer restricted to knowledge and skills using specific tools, software, or IT solutions. The concept is increasingly used to describe the ability to acquire knowledge, be creative and innovative, as well as develop the attitudes needed to use digital media to live, work, and play in the knowledge society.
Although basic skills are interconnected – and connected to social and emotional skills – the government has a special focus on the digital skills needed in Norwegian society. Despite being one the most digitalised countries in the world, PIAAC[2] shows that there is a lack of basic digital competence among 30% of the adult population. Norway, placed amongst the most advanced digitalised countries, is at risk of falling behind if we do not keep up with the demands and needs of business, the workplace, and society.[3]
Digital competency outside working life
Close to 80 % of employed citizens want to improve their digital skills while at work, and the workplace is the most important arena in which to evolve and maintain one's digital competency.[4] For this reason, people who are outside the workforce are especially vulnerable to falling behind. The government is increasingly aware of this group and is focusing on various ways to strengthen the skills base for the general population.
Skills Norway has developed several open educational resources (OERs) and has initiated measures to improve people's digital skills, such as a framework for basic digital skills and learning materials available online. Tests, self-assessment tools and e-learning will be ready to use by January 2019 at kompetanseporten.no.
Digidel.no is a site for instructors of basic digital skills. The platform contains course material that can be freely used in libraries, seniors associations, by municipalities and by NGOs offering courses with the intention to increase people's digital skills. Digidel forms part of Digihjelpen.no, which is a municipal guidance service that will help raise the basic digital competence of its citizens adapted to local conditions.
Continuing education in digital skills
Lifelong learning is a necessity to participate in working life, a realm that is continually changing, with changes happening faster than ever before. The lack of focused teaching of relevant and sustainable digital competencies means that newly graduated students face the risk of having an outdated education even before entering working life. The focus on lifelong learning and continuously updating digital skills has not been a focus or priority for people with higher education, as it has been assumed that higher education also means high digital literacy, but the focus is slowly shifting. Skills Norway is now working to develop continuing education courses in digital skills specifically aimed at people who are in the work force and have a post-secondary education. Business clusters are invited to develop these courses within an industry in cooperation with a university or vocational school. Other government-initiated programmes are focusing on educating teachers and including more digital thinking and solutions in all educational levels.
What happens when knowledge acquired in the formal education system becomes obsolete?
In the learning café 21st Century Skills and Adult Learners: Preparing for Societies that Never Stand Still,  Skills Norway – a directorate under the Ministry of Education – will present Norway's strategies for digital skills development. Together with other OEB participants, we will explore how to get people prepared to meet the digital demands of a society that never stands still.
References
[1] Liikenne- ja viestintäministeriö, Tekes, Teknologiateollisuus, og Verkkoteollisuus, 2017
[2] http://www.oecd.org/skills/piaac/
[3] Chakravorti og Chaturvedi (2017): Digital planet 2017.
[4] https://www.kompetansenorge.no/statistikk-og-analyse/grunnleggende-digital-ferdigheter/
[5] https://www.kompetansenorge.no/statistikk-og-analyse/grunnleggende-digital-ferdigheter/befolkingens-bruk-av-digitale-verktoy/