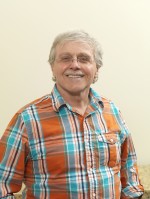 Eilif Trondsen is Research Director at Strategic Business Insights, formerly Stanford Research Institute. He describes himself as a "Scandihoovian" – originally from Norway, he went to California to visit Silicon Valley, and was so taken with the place he decided to stay. That was 34 years ago. More recently, however, he has been drawn back across the Atlantic to analyse developments in the Scandinavian world – to see if Europe's new start-up capitals are evolving on similar lines to America's.
Interview by Alasdair MacKinnon
"EduPreneuring" is Trondsen's portmanteau term for this latest trend in edtech, a concept which encapsulates the pioneering spirit of the young companies that are now hoping to make their mark on an education landscape which has often, in Europe, been dominated by government ministries. It is something Trondsen has been noticing at Stanford for a while: "I see incredibly bright students coming out of the school of education, and they don't want to become teachers: they want to start companies. They have ideas on products that can make the life of teachers better and easier. I've been totally blown away by how good these young people are. And now we see entrepreneurship spreading – Barcelona, Berlin, Stockholm, Tallinn – it's happening everywhere."
Over the last two or three years tech start-ups have begun to flourish in Denmark, Iceland, Norway, Sweden and Finland, many of them focusing on education. Trondsen's latest research project targeted early-stage projects, in an attempt to identify, profile and evaluate these Nordic companies. He and his Nordic colleagues in the project (funded by Nordic Innovation headquartered in Oslo) got into contact with fifty enterprises, most of them set up only in the last two and three years, which were "innovating, coming up with new ideas, and increasingly focusing on the areas we were particularly intrigued by, that is game based learning, mobile learning, simulations and online tools."
His research has given him a fascinating insight into the birth of a new industry, and reflects not only the particular circumstances faced by young companies in Scandinavia, but also global trends in technology and education. What has become important is "communication, and not just communication, collaboration and interactivity". For Trondsen the educational revolution is not being brought about by technology of itself, but by the new channels of communication technological tools open up between people – something evident in the Nordic EduPreneurs' concentration on mobile and game-based learning. "The tech is just a tool, and if you have more tools you have more means for communicating. That's the key part of learning," he says, "having different ways of communicating."
To illustrate the point he turns to tablets. "I read the story recently of a primary school teacher talking about how it had really changed her life – the iPad made less of a wall between her and her students. You get some very interesting dynamics as a result of bringing in these tablets – it's a way to really get the interactivity. Why, I see my 2 year old granddaughter interacting with a tablet and she already knows how to manoeuvre and interact with it. That's what it's all about: actually interacting with the content, moving things around, solving problems. I'm sure that's going to result in much improved learning."
Though education has always been about the communication between teacher and pupil, some of its methods undermine the usefulness of this moment of interaction. Trondsen, having progressed through years of formal education himself, is as well placed as any to criticise these "archaic methods" – particularly the concept of lecturers lecturing and students writing notes, a model he labels "the sage on the stage". "Copying off the board is the most stupid way of teaching," he says firmly: "I remember it from grad school and it's just a waste of time. You really don't have the opportunity to think about what is being said when you're just trying to copy the notes." For Trondsen the flipped model, where students can interact with the lecture material in their own way at home while collaborating with classmates and teachers to solve problems in the classroom, is a far more effective form of education. "Even with video, though it may not be the most effective sort of learning, you can have 100 people watching and then use twitter as a backchannel for dialogue."
Of course, the communications revolution goes far beyond formal education, into informal learning and training. "You can now collaborate with anyone, and do team-based learning. Most of us in the workplace today have to work collaboratively." Ironically, one of the problems Trondsen found facing the EduPreneurs he contacted for his research was a lack of communication. "These guys feel somewhat isolated, especially in the Nordic region, where the countries are small. They're sitting by themselves and feel that they're not able to talk with people who are doing the same elsewhere in the region. One of the things we found during the research was that companies really enjoyed connecting and hearing what other people were doing and so on.
"That's one of the roles ONLINE EDUCA BERLIN plays – bringing people together and enabling them to connect, get to know each other and see how they can work together. I hope that eventually maybe these companies can make their way down to Berlin and use that as a way to connect, and talk, and so on."
Eilif Trondsen will be facilitating a session on EduPreneuring at this year's ONLINE EDUCA BERLIN. Find out more and register for the conference at https://oeb.global/