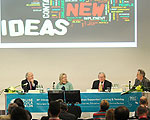 Senior business managers don't want learning. They want results. Business EDUCA explored ways of getting results through collaborative intelligence and learning. Organisations have changed their perspectives to use technology for learning. Some important perspectives emerged…

By Laura Overton, Towards Maturity, UK
New at this year's ONLINE EDUCA BERLIN was Business EDUCA, a conference stream designed for people working in learning and development. Delegates liked the new format, discussing, exploring and debating the issues facing organisations today. A common theme was that we need to address the challenge of improving performance in the workplace by looking at it from a different perspective.
The Collaboration Vantage Point
The opening sessions flagged the importance of team spirit. Several Business EDUCA sessions provided inspiration on how collective success can be achieved. At the organisational level, Clark Quinn highlighted a great example of collaboration across the workforce with an engineering firm that asked new engineers to get involved in blogging and asking older engineers to 'correct' the work of their younger colleagues. This allowed sharing of experiences across the workforce whilst addressing different generational views of using technology. Collaboration also pays dividends across organisations and Martin Baker from the Charity Learning Consortium illustrated the power of team working.
The Customer Vantage Point
Joe Pokropski, the first official Thomson Reuters knowledge network ambassador, outlined how client learning services were transformed by looking at things from their customer's perspective. Instead of trying to see how many customers could be trained, their task became to find a way of helping customers "use what they buy in order to be able to do what they want". This changed perspective opened new ways of learning that saved the company millions of dollars.
This can also work when designing learning at an individual project level, Claudia Punstein from Canudo in Germany highlighted that putting yourself in your customer's shoes actually is more important than technology or design concepts. She shared some really practical ideas.
The Culture Vantage Point
Our own research has highlighted the critical role of management and organisational culture in implementing new ways of learning. Organisations who consider and adapt to culture are able to implement change more effectively.
Svetlana Omeltchenko from British American Tobacco, shared her story about how they reviewed their traditional approach to learning and e-learning by building a system to connect content and conversations, creating a stream of knowledge for marketing professionals around the globe that connected to the real way that they do business.
Josh Bersin highlighted that cultural issues that influence success are primarily driven by management not Learning and Development which creates another opportunity to look at learning innovation from a different viewpoint.
My personal observation is that over the last ten years, we have occasionally glanced up to notice a different viewpoint but generally, we have been driven to use technology to improve what we've always done.
Talal Abu-Ghazaleh, the chairman for the United Nations Global Alliance for ICT and Development (GAID), challenged the delegates at OEB to get new eyes to see a new future. As we move into the next decade, it is critical that we use those new eyes to consider what we do from a different vantage point if we are to realise the full potential of learning technologies at work.
You may review some of the Business EDUCA sessions that were streamed live at:
https://oeb.global/audio-video-405.
The next Business EDUCA will take place at ONLINE EDUCA BERLIN 2011 from December
1st to 2nd, 2011.