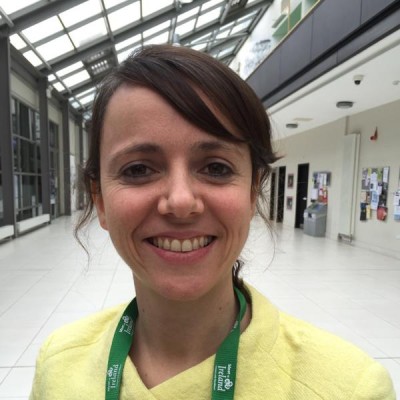 Digital technology is now fully embedded in our everyday lives: from work, school and university, to shopping, banking and interacting with friends and family. Confidence in the knowledge and use of these technologies can no longer be seen as a stand-alone skillset, but rather a vital part of fully engaging with and flourishing in the digital world. There is no shortage of policy documents and well-publicised national aspirations in the area of digital literacies, competences or frameworks. But much of the focus tends to be on building up functional technical skills tied to particular job responsibilities, or stages of education. How we live, work, and learn in a digital age is a crucial question.


The All Aboard project was tasked with exploring these issues in more depth, within an Irish educational context. When considering a response to three documents: Ireland's National Digital Strategy; Digital Agenda for Europe (now the 'Digital Single Market'); and the Digital Roadmap for Irish Higher Education; we wondered whether it might be possible to try a slightly different approach to the more usual development of a competency framework, formal programmes and traditional qualifications. We sought, where possible, to explore aspects of 'confidence' (or the lack of it) in the use of technologies by everyone engaged in higher education (students, academic staff (faculty), technical, support, and administrative staff). We wanted to see what scope there might be to develop activities, events, campaigns, and to develop slightly more imaginative ways of raising the issue, whilst also encouraging participation and engagement.


Through workshops, discussions, literature reviews, questionnaires, and other gathering, we pooled a variety of suggestions for areas of technology and technology use, as well as pedagogical and learning design concerns. Trying to make sense of these ideas, we could see a natural 'clustering' into six broad domains and experimented with a number of possible visual representations. In the end our original concept-map was transformed it into the Metro-Map infographic that now is the key hallmark and central metaphor for All Aboard, and a starting point in thinking about your journey to becoming more digitally confident.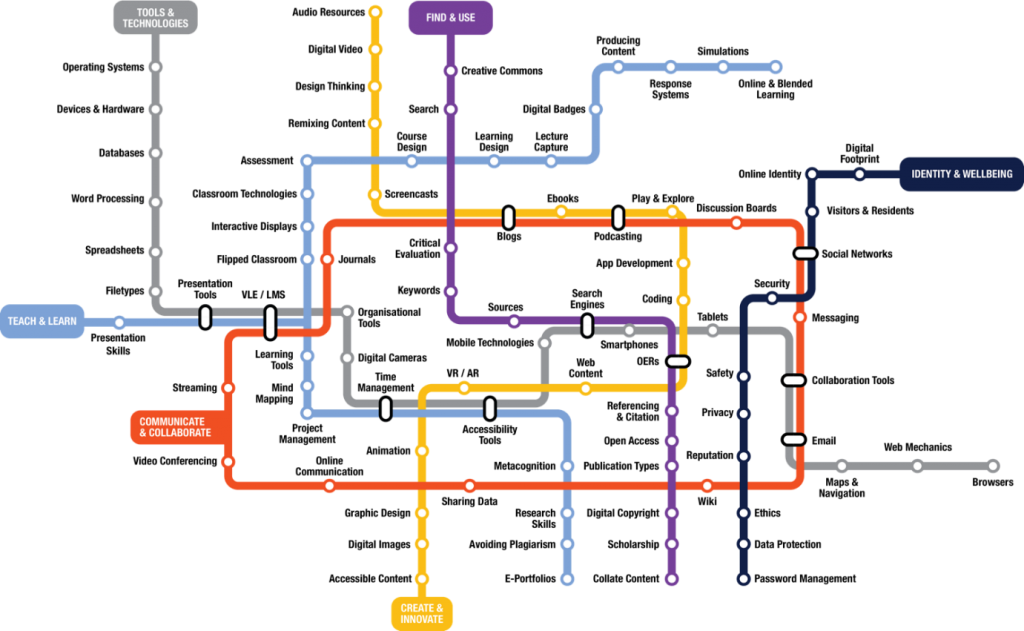 We produced and shared a suite of openly licensed lessons and learning materials, linked to 'stops' on the map that anyone can access online and which provide recognition of learning via Digital Badges.


But how best to extend this open, playful approach to digital confidence acquisition to the classroom? Much of the power of digital technology is rooted in how it connects us, allows us to explore new ideas, share experiences, interact with others, and removes barriers from access to information. How we obtain such skills, in contrast, can be quite the opposite: functional (even boring) training, often alone at a computer, with no or limited opportunities to explore, experiment or communicate with others.


The Digital Champions project in NUI Galway seeks to address these challenges, building on the work of All Aboard. The scheme has been running for the past three academic years, as a case study in the design and delivery of collaborative, flexible, and creative approaches to building confidence and 'cascading' knowledge and skills more widely across the institution. It is built on the central ideas of partnership and openness. The aim is to encourage staff and students to feel fully comfortable with the variety of technologies being used within the institution and to be aware of the potential for innovation in teaching and learning, but also to explore how digital technologies can be used to greatest effect in everyday life, and reflect on the areas of online identity and digital wellbeing. The partnership scheme has been co-created by a team of students and support staff to build a Digital Learning Community on campus.


A series of hands-on interactive workshops are provided throughout the year. The topics are diverse, from recording and editing a podcast to exploring and managing your online identity, to building a portfolio website.


Participants (a mix of both staff and students) get the chance to try out new technologies, discuss their experiences, and share their own expertise in a friendly, open and playful environment. The room is laid out café style, with lunch provided and discussion opportunities built into every session. Evaluation of the project through interviews and focus groups has shown that Digital Champions provides one of the few spaces on campus where staff and students can come together as equals, to share their experience and reflect on their use of digital technologies.


To share our experiences in running such a scheme, we have launched the Digital Champions Toolkit, an Open Educational Resource which can be downloaded, remixed and repurposed. The toolkit contains advice and guidance on implementing a similar initiative at other institutions.


Digital Champions at OEB Global 2019
Digital Champions are coming to OEB Global 2019, with one of our most popular workshops: Podcasts: The Power of the Spoken Word.


Podcasts are a powerful tool in education and can be really effective in supporting teaching and learning in a variety of ways. Lecturer produced podcasts can be used to provide summaries of key topics, as a way of keeping students motivated, on track, and to provide a sense of 'teacher presence', all of which promote and sustain academic engagement. Podcasts can be a key component of a 'flipped classroom' approach, where learning resources covering the basics of a topic are provided to students in advance of class, to allow more in-depth subject exploration in class. Podcasts are easy to subscribe to on mobile devices, so students can access them anywhere, from the library, on a commute, or while cooking dinner, providing truly flexible learning.


Podcasts are also a great way to empower students to produce their own content, either on their own, as a pair or as part of a larger interview or discussion based podcast, and are particularly effective in language learning contexts. These can then be shared within a class, allowing students to take control of their learning, and provide feedback to each other. The technical barriers to podcast production are low, making it a great starter technology on anyone new to content production. Emerging technologies such as machine learning have the potential to quickly and easily provide accompanying transcripts to podcasts, which can be useful study aids.


In our Pre-Conference Workshop, we will explore a number of podcasting in education case studies in greater depth, looking at the benefits of podcasting, along with common challenges. Participants will also get hands-on with the actual process of podcasting, learning how to plan and script, record, edit and publish their own podcast.


Written by Blaneth Mc Sharry.


Blaneth Mc Sharry and her colleague Gráinne Mcgrath will facilitate the Pre-Conference Workshop 'Podcasts – The Power of the Spoken Word' at OEB Global 2019.