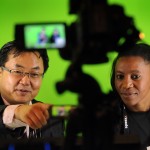 When questions pop up inside our head we no longer grab a heavy encyclopaedia volume, but we do a search on the Internet instead. People in different age groups approach this search in different ways: the younger ones no longer search for articles, but find answers directly on video hosting platforms like YouTube. Online video is becoming more important each year. In the VIDEO EDUCA Master Class at ONLINE EDUCA BERLIN 2012 a team of highly experienced broadcast and film professionals shared their expertise with delegates on how to make video in learning even more effective.
By Abe Pazos
The language of video
The decreasing cost of video production and post-production makes it easy for educators and enthusiasts to create video material and share it online. Unfortunately, affordable technology does not magically create good content. Quality still requires expertise in the language of video, and those with no previous film-making experience have to learn what it is that makes an educative video successful.
Adam Salkeld from Tinopolis, UK, directed the VIDEO EDUCA Master Class. He argued that "the technology is there, the audience is there" and praised "the incredible talent and knowledge the young people have, who are exploring video making themselves". Salkeld used his experience as a documentary filmmaker to direct the participants' attention to different segments of Hollywood films and carefully study how cameras and sound are used, how scenes are edited and how directors approach storytelling on film. Comparing successful films with a variety of learning video content found online is a great exercise which helps us notice quite how much we might be missing in educational video.
Laurie Burruss, from Lynda.com, shared a perfect example of what to avoid during a presentation titled "Online Video: How It Changes & Enhances the Way We Learn!". She showed a very long lecture recording produced by a recognised university. The video included a still professor, shot entirely from one static camera, with poor audio quality, unreadable slides and with students walking in and out of the classroom in front of the camera.
Salkeld pointed out during Wednesday's Masterclass that "from all the wonderful things you can do on film, you don't have to just put a camera in front of the teacher and record it. It's not using video to anywhere near its potential. It's actually making the content worse! Of course there are budget constraints and time constraints, but there are still things you can do to make it a little bit more of a pleasant experience rather than torture," he joked.
Emotion and connecting with the audience
The Master Class continued with Martin Addison sharing the story of how Video Arts has used humour during its 40 years of existence while adapting to media and technology available in each decade. Humour is a very effective technique for connecting with the audience. On Friday's session Ms Burruss made obvious the importance of this connection by showing a video clip in which a teenager explained how to create a certain hair styling – this clip being much more popular than other pieces produced by professional and experienced hairdressers of older age.
As Salkeld pointed out, "we must think about who we are communicating with, and we must be extra careful when talking to a younger audience. They are much more demanding". During the session the participants could see many examples of corporate videos that completely missed this connection with the audience: they felt utterly ridiculous and embarrassing.
Talking to a person right next to the camera instead of talking to a camera standing on its own, and having people talk in natural environment with no artificial light were some of the ideas suggested that make recordings more natural.
Performance
The former BBC television producer added, "Performance is a big part of making an entertaining video. You do have to consider performance of the people you are going to be using", which led to ideas from the audience like "making the teacher a movie star". Maybe there is space for a new profession: the educator-performer?
Storytelling and emotion
The presenters in the Masterclass made it very clear that "you need a message. If there is no message, it doesn't matter which techniques you use". Rebekah Tolley, from Tarian Films, emphasised that "emotion is very important and not necessarily extreme emotion, but an emotion you can connect to. If you got a good story to tell in your film then you can film it in a simple way, with very little budget". Two examples with powerful stories but low budgets were screened: Baseball in the Time of Cholera and Caine's Arcade. Salkeld stated that "even the dullest lecture should have a story that you can tell".
Is video the solution?
It's important to keep in mind that video is not always the right format. Sometimes a good solution is a combination of media: maybe a short exciting introduction video covering the most important aspects, working together with longer audio and text documents. We must consider "what is video going to provide that other media fail at?" Salkeld advised.
As a finale to the Masterclass Steve Anderson, Editorial Director of the Tinopolis Group, led the "Video Doctor" session, which screened material submitted by the attendees. Mr Anderson provided ideas for improvement and all attendees shared comments and related experiences.
The VIDEO EDUCA Masterclass was a fantastic opportunity for exchanging video production knowledge and learning from experienced creative professionals.