OEB 2012 saw the launch of our new strand VIDEO EDUCA, which proved a very popular addition to the conference programme. We spoke to Adam Salkeld, Head of Programmes at Tinopolis and the Curator of VIDEO EDUCA, to find out how it went.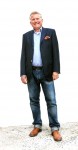 OEB:  Adam, can you give us your post-conference impressions of the first VIDEO EDUCA?
AS: I was genuinely surprised by the demand for all the VIDEO EDUCA events. There is a huge interest out there in how video can be used more effectively in learning. Best of all for me was the enthusiasm that just bubbled up during all our discussions about video.
OEB: What sort of feedback did you have from VIDEO EDUCA participants?
AS: Well so far it's only been the feedback I received on site in Berlin, but it was overwhelmingly positive. Clearly, given the demand, we could have done with more capacity for the Video LABs in particular. That is something we will bear in mind for next year. In general, all the participants appreciated the opportunity for professionals from the world of TV and film to get together with professionals from the world of learning. We now understand a lot more about each other — our capacities, our strengths and our needs. This is a dialogue I am very keen to continue.
OEB: Are there any particular themes that emerged from VIDEO EDUCA?
AS: Yes, a few things stand out. One is that everyone realises there is a lot that can be done to improve the quality of educational video and, better still, they are enthused about that challenge. Next, a lot of people are talking about how video will be at the forefront of competition for learners in the future and that educators will need good video to attract students. Finally, as so often, many participants mentioned the limited budgets that they have to work with, so we had some interesting discussions about how to use creativity to make up for meagre funds.
OEB: What sort of session was most successful in VIDEO EDUCA?
AS: I think it would be wrong to single out one type of activity. We deliberately scheduled a range of session and events to try and meet different levels of requirement from the delegates. We wanted to inspire with Michael Grigsby's keynote and screening; we wanted the Masterclass delegates to immerse themselves for the day in the art and craft of film; we wanted our Video Doctor, Steve Anderson, to impart invaluable critical advice on delegates' own films;  and we wanted to give LAB attendees as much practical help as possible. Each element of VIDEO EDUCA had its own focus.
OEB: So you are already thinking about VIDEO EDUCA for OEB 2013?
AS: Yes I am.  I will be monitoring all the feedback to see what participants valued about the programme and what we can do better and whether we need to adjust any of the formats. I am also exploring some new themes. I am very interested in looking at learner-generated video and how that can add value in a whole range of ways. There is some very interesting work being done in this area. I think we will also directly address the issue of low cost video production and how creative solutions can come to the aid of cash-strapped budgets. But I am still keen that at its heart, VIDEO EDUCA is about bringing the TV and film industry and the learning sector together. There is a century's experience to draw on in the art and craft of film-making: bringing that to the world of education is the particular strength of VIDEO EDUCA.
OEB:  Finally, how can we stay in touch with developments in VIDEO EDUCA?
AS:  We will ensure that all major developments are posted on the OEB website. We are also going to be setting up a user community for all those delegates who signed up for this year's VIDEO EDUCA and they will be contacted directly by email. Finally, we are very interested in any feedback so please do let us know either via the OEB email (info@online-educa.com) or directly to me adam.salkeld@tinopolis.com.