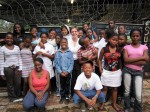 After witnessing first-hand the effects of HIV, AIDS and poverty on South African children, Amy Stokes looked at how technology could be used to create a new way for adults around the world to nurture and support Africa's children. Since its founding in 2006, Infinite Family has set up computer labs in orphanages, after-school programmes and squatter camps, using the Internet to connect almost 500 teens with approximately 300 volunteer mentors from all over the world.
Infinite Family believes that African teens will have a better chance of becoming productive members of their schools, communities and countries when encouraged and supported by a mentor. Weekly video conversations are used to establish enduring relationships between adult mentors and vulnerable teens. Activities include doing homework, learning about career options and sharing personal hobbies and articles of interest through blogging, video chat sessions, a virtual drawing board and photo uploads. This regular communication with their "net buddies" enables mentees to enhance their problem-solving and decision-making skills, improve their literacy, technology and interpersonal skills and be better prepared for employment.
Infinite Family Founder Amy Stokes has been nominated as a CNN Hero of 2011, an award which recognises everyday people changing the world. Having reached the top ten, Amy is hoping to win CNN Hero of the Year which would result in an award of $250,000 for Infinite Family. To vote for Amy, please click here. You may vote up to 10 times per day from each email account, and the deadline is December 7th 2011.